U.S. presidential election, 1844
From Academic Kids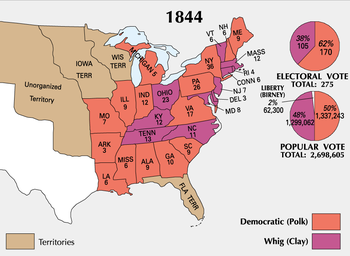 The U.S. presidential election of 1844 was the first election to see an incumbent President seek nomination and fail to receive it. John Tyler achieved this dubious distinction, abandoned by his native Democratic party and despised by his adopted Whigs.
Democratic nominee James K. Polk campaigned vigorously, surprising many with his stalwart support of westward expansion, an issue that Whig nominee Henry Clay and others attempted to deflect. Polk's boldness paid off with his election on November 5, 1844, garnering 170 electoral votes to Clay's 105.
Despite his relative obscurity, historians today see Polk as one of America's most effective Presidents. In his four years in office (he refused to seek re-election), he accomplished every major goal he had established during the 1844 campaign.
Nominations
Democratic Party nomination
The Democrats met in Baltimore and nominated Polk, their first "dark horse" candidate, on the ninth ballot. Former President Martin Van Buren was an early favorite, but lost support due to his opposition to the annexation of Texas, a position was seen as unacceptable by southern delegates. The Democrats chose Silas Wright as Polk's running mate, but Wright refused the nomination. George Mifflin Dallas, who had finished a close second to Wright in the balloting, was then offered a spot on the ticket, and he accepted.
When advised of his nomination via letter, Polk replied: "It has been well observed that the office of President of the United States should neither be sought nor declined. I have never sought it, nor should I feel at liberty to decline it, if conferred upon me by the voluntary suffrages of my fellow citizens."
Whig Party nomination
The Whigs chose Clay, the party's greatest congressional leader, despite his having lost two prior presidential elections: in 1824 to John Quincy Adams as a Democrat-Republican, then in 1832 to Andrew Jackson as a National Republican. Theodore Frelinghuysen was nominated as Clay's running mate.
The Whigs played on Polk's comparative obscurity, asking "Who is James K. Polk?" as part of their campaign to get Clay elected.
Other nominations
Another candidate in the 1844 campaign was Joseph Smith, Jr., founder of The Church of Jesus Christ of Latter-day Saints, who intended to run with Sidney Rigdon as his running mate. The effort was aborted when Smith was murdered on June 27, 1844.
General election
Results
Template:Start U.S. presidential ticket box Template:U.S. presidential ticket box row Template:U.S. presidential ticket box row Template:U.S. presidential ticket box row Template:End U.S. presidential ticket box (a) The popular vote figures exclude South Carolina where the Electors were chosen by the state legislature rather than by popular vote.
(b) Template:U.S. popular vote total disclaimer
See also
Template:Uspresidentialelections
References
External links