Tonya Harding
From Academic Kids
Tonya Maxine Harding (born November 12, 1970) is a former figure skater from Portland, Oregon. After a tough childhood in an unstable lower-class family, plagued by asthma, she went on to win the U.S. national figure skating competition twice and place second in the 1991 world championship. She was the second woman, and the first American, to ever complete the triple Axel jump in a competition.
She became famous in an Olympic scandal in 1994 for allegedly conspiring to harm the career of competitor Nancy Kerrigan in an attack, having her struck on the knee. Harding went on to win the 1994 U.S. championships. Along with Kerrigan, she participated in the Olympic Games in the same year; she finished eighth and Kerrigan second.
On February 1, 1994, Harding's ex-husband, Jeff Gillooly accepted a plea bargain in exchange for his testimony against Harding. Harding avoided further prosecution and a possible jail sentence in that scandal by pleading guilty on March 16 to hindering the investigation into the attack. She received three years probation, 500 hours community service and a $160,000 fine. She maintains her innocence in the planning of the attack itself, contradicting the confessions of the alleged conspirators.
Looking into the attack, the U.S. Figure Skating Association (USFSA) stripped her of her U.S. title and banned her for life from participating in any of its sanctioned events, or from becoming a sanctioned coach, because it concluded that she had indeed known about the attack before it happened.
During the buildup to the 1994 Olympics, Charles Barkley made the following memorable quote concerning Harding:
I heard Tonya Harding is calling herself the Charles Barkley of figure skating. I was going to sue her for defamation of character, but then I realized I have no character.
Later celebrity
Tonya Harding entered the world of the nude Internet celebrity with the appearance of a "Wedding Video" that shows her having sex with her ex-husband Jeff Gillooly. Gillooly (who, not long after the scandal began to fade from prominence, changed his name to "Jeff Stone") sold the tape to a tabloid show after having been implicated as a conspirator in the Kerrigan attack. Stills from the tape were published by Penthouse in September 1994, and the tape itself was released at about the same time.
On February 24, 2000, Harding was ordered by a Clark County judge to stay away from booze and her former boyfriend, Darren Silver, after being booked on fourth-degree Domestic Violence assault charges for punching Silver and throwing a hub-cap at him at their Camas, Washington residence.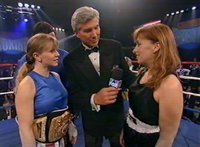 In 2002, Tonya Harding boxed on the Fox TV network Celebrity Boxing event against Paula Jones, winning the fight. On February 22, 2003, she made her official women's professional boxing debut, losing a four round decision in the undercard of the Mike Tyson-Clifford Etienne bout, amid rumors that she was broke and needed to box to get some money.
Harding was arrested for drunk driving in April 2002. According to her police records, she was 5 ft 1 in (1.55 m) tall and weighed 105 lb (47 kg) at the time.
As of August, 2004 her record is 2-2-0 (0 KO).
Harding won her third pro bout against Alejandra Lopez at the Creek Nations Gaming Center.
On June 24 2004, after reportedly not having boxed for over a year, Harding was beaten in a match in Edmonton, Alberta by Amy Johnson. Fans reportedly booed Harding as she entered the ring, and cheered wildly for Johnson as she won in the third round.
Harding allegedly hopes to eventually rise within the ranks of women's boxing, and possibly appear in a pay-per-view event against Jelena Mrdjenovich.
External links