Throgs Neck
From Academic Kids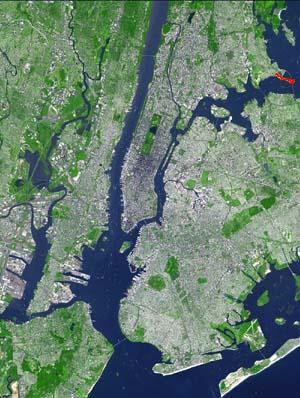 Throgs Neck (sometimes spelled Throggs Neck) is a narrow spit of land in the southeastern Bronx in New York City. It demarcates the entrance of the East River from Long Island Sound. The name also refers to a neighborhood in the Bronx on the peninsula.
The land of Throgs Neck is used as the northern approach to the Throgs Neck Bridge, connecting the Bronx with the borough of Queens on Long Island. The Throgs Neck Lighthouse stands at its southern tip.
The peninsula was called Vriedelandt by the Dutch. The current name comes from John Throckmorton, and Englishman whom the Dutch allowed to settle in the area in 1642. The settlement was eventually driven out by an uprising of Native Americans. In 1668, the peninsula appeared on maps as "Frockes Neck". In 1776, George Washington wrote of a "Frogs Neck".
In the 19th century, the area became the site of large farms and estates. From 1833 to 1856, the construction of Fort Schuyler brought in laborers and craftsmen, many of whom were immigrants from Ireland, to settle in the area with their families. By the late 19th century, the area had developed into a fashionable summer resort.
After the inclusion of the Bronx in New York City in 1895, the transit lines were expanded out to the neighborhood, bringing in many Italian farmers and tradesmen. The large estates became largely converted into smaller row homes.
In 1932, Fort Schuyler closed as an active military installation and became the campus for cadets of the New York State Maritime College. In 1961, with the building of the Throgs Neck Bridge, as well as the adjacent parkways, the neighborhood lost its compartive isolation. Today the neighborhood has several beach clubs and a diverse housing stock, including middle-class homes, up-market waterfront condominiums, as well as the Throgs Neck Houses, built in 1953 as one of the first low-income housing projects in New York City.
External links
Forgotten NY (http://www.forgotten-ny.com/YOU%27D%20NEVER%20BELIEVE/Throgs%20Neck/throgs.html): Throgs Neck, NY
Lighthouse Museum (http://www.lighthousemuseum.org/nylights/throgs.htm): Throgs Neck Lighthouse