The Children's Hour
From Academic Kids
This article is about the stage play by Lillian Hellman. For the BBC Radio 4 programme, see The Children's Hour (radio). For the novel by Jerry Pournelle and S.M. Stirling, see The Children's Hour (novel). "The Children's Hour" was also the title of a poem by Henry Wadsworth Longfellow published in The Atlantic Monthly in September of 1860.
---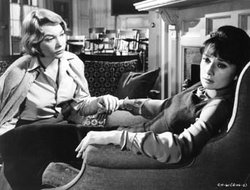 The Children's Hour is a 1934 stage play by Lillian Hellman. It is a drama set in an all-girls boarding school, run by two women, Karen Wright and Martha Dobie. An angry student, Mary Tilford, runs away and to avoid being sent back tells her grandmother that the two headmistresses are having an affair, a claim that isn't true. The accusation proceeds to destroy the women's school, relationships, and lives.
Adaptations
The play was made into a 1936 film, but the Hayes Commission forced the nature of the affair to be changed into a heterosexual love triangle, and would not allow the film to keep the same name as the controversial play it was based on; the title was changed to These Three.
In 1961 the play was again brought to the screen, this time with Audrey Hepburn and Shirley MacLaine in the main roles. The Production Code allowed for the alleged affair to once again be homosexual in nature, but references to it were allusionary and non-specific.
External links