Sunsphere
From Academic Kids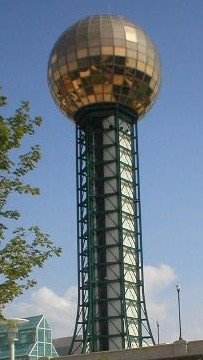 The Sunsphere is a 81.07 metre ( 266-foot) high hexagonal steel truss structure, topped with a 74-foot bronze glass-plated sphere. It is the most distinctive structure on the Knoxville, Tennessee skyline.
The Sunsphere was created as the theme structure for the 1982 World's Fair. While the fair itself was regarded as a failure, the Sunsphere was noted for its unique design in several engineering publications. Today, most of the World's Fair site is a public park and a convention center, but the Sunsphere itself shows no sign of going away.
However, to most people (including most residents of East Tennessee), the Sunsphere is more frequently "appreciated" for its eccentricity and uselessness than its unique design. University of Tennessee students (the university is adjacent to the former World's Fair site) have occasionally held competitions for "alternate uses" of the Sunsphere, and even the popular television show The Simpsons got in the act once, as Nelson accidentally topples the object (which, in The Simpsons' universe, has become a center for wig outlets) during one episode which pays ironic tribute to the 1982 World's Fair. There is some speculation that the wig shop angle was inspired by J's Mega Mart, a nearby emporium notable for its selection of Korean snack food and a large stock of wigs.
There is even a "religion" based around the Sunsphere, known as the Church of The Giant Golden Microphone
See also
Satellite view (http://maps.google.com/maps?ll=35.961664,-83.923305&spn=0.008036,0.010450&t=k&hl=en)