St. Vitus Cathedral
From Academic Kids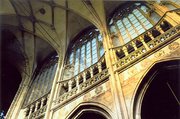 Saint Vitus Cathedral is a cathedral in Prague, seat of the Archbishop of Prague. Full name of the cathedral is St Vitus, St Wenceslas and St Adalbert Cathedral.
Located within Prague Castle and containing the tombs of Czech kings, this cathedral is an excellent example of gothic architecture.
Construction began in 1344, at first according to designs of Matthias of Arras, and after his death in 1352 it was taken over by Peter Parler. He completed only the choir and part of a southern transept. The cathedral was not finished until the 19th century, when the nave and western twin-tower façade were built.
External links

Template:Euro-struct-stub Template:Czechia-geo-stubcs:Katedrála svatého Víta de:Veitsdom eo:Katedralo de sankta Vito pl:Katedra_Å›w._Wita_w_Pradze it:Cattedrale di San Vito nl:Sint-Vituskathedraal