Srebrenica
From Academic Kids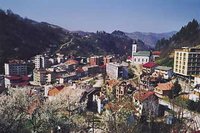 Srebrenica (in Serbian Cyrillic: Сребреница) is a town in the east of Bosnia and Herzegovina in the Republika Srpska entity. It is a small mountain town, its main industry being salt mining and a nearby spa.
In 1991 there were 37,213 people in the Srebrenica municipality: 27118 Bosniaks (72.9%), 9381 Serbs (25.2%), 372 Yugoslavs (1%), 40 Croats (0.1%) and 302 others (0.8%). The town of Srebrenica itself had 5,754 residents: 64% Bosniaks, 29% Serbs, 5.3% Yugoslavs, 1% others, 0.7% Croats .
Before 1992, there was a metal factory in the town, and lead, zinc, and gold mines nearby. The town's name (Srebrenica) means "silver mine".
During the war in Bosnia (1992-1995), the town became a Bosniak enclave surrounded by the Bosnian Serbs, and a safe area guarded by UNPROFOR. In July 1995, the town was occupied, the Bosnian Serb army deported the population, and its surroundings became the site of the Srebrenica massacre of several thousand Bosniak men and boys by Bosnian Serbs.
The town contains a memorial cemetery which was unveiled by former US President Bill Clinton in 2003.
Template:BiH-geo-stub Template:Bosnian citiesde:Srebrenica eo:Srebrenica fr:Srebrenica nl:Srebrenica sl:Srebrenica sr:Сребреница sv:Srebrenica