Soldier's Medal
From Academic Kids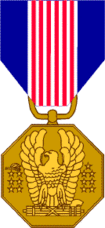 The Soldier's Medal is a medal of the United States. It was introduced by a law passed by U.S. Congress on July 2, 1926. The criteria for the medal are: "The Soldier's Medal is awarded to any person of the Armed Forces of the United States or of a friendly foreign nation who, while serving in any capacity with the Army of the United States, distinguished himself or herself by heroism not involving actual conflict with an enemy." (Army Regulation 600-8-22).
Often, the medal is awarded to soldiers who risk their life to save other people. The medal can be awarded in peacetime. If the soldier's heroism is held to be equal to or greater than the level which would have justified an award of the Distinguished Service Cross if the act had taken place in combat, an enlisted recipient who is eligible for retirement pay (20 years or more of service) will receive an increase of 10 percent in retirement pay, just as if the soldier had earned the DSC.
The first medals were awarded on October 17, 1927 to John F. Burns and James P. Martin, for heroism during a fire and to James K. Wilson and Cleophas C. Burnett for saving people from drowning.
Colin Powell was awarded the Soldier's Medal during his secound tour in Vietnam (1968-69), during which he was injured in a helicopter crash. Despite his wounds, Powell rescued his two comrades who were with him from the burning wreckage of the helicopter.
See Also
Awards and decorations of the United States military
External link