Shuttle Carrier Aircraft
From Academic Kids
Missing image
Atlantis_on_Shuttle_Carrier_Aircraft.jpg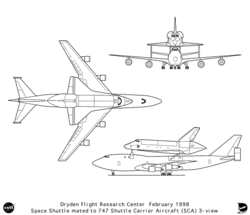 A Shuttle Carrier Aircraft (SCA) is one of two extensively modified Boeing 747 jetliners that NASA uses to transport a space shuttle orbiter. One is a 747-100 model, while the other is designated a 747-100SR (short range).
The SCAs are used to ferry space shuttles from landing sites back to the launch complex at the Kennedy Space Center, and also to and from other locations too distant for the orbiters to be delivered by ground transportation. The orbiters are placed atop the SCAs by Mate-Demate Devices, large gantry-like structures which hoist the orbiters off the ground for post-flight servicing, and then mate them with the SCAs for ferry flights.
The first aircraft, N905NA, was originally manufactured for American Airlines and still carried visible American markings while testing the Enterprise in the 1970s. It was acquired in 1974 and initially used for trailing wake vortex research as part of a broader study by NASA Dryden, as well as Shuttle tests involving a F-104 flying in close formation and simulating a "release" from the 747.
The aircraft was extensively modified in 1976, with the cabins being stripped, mounting struts added, and the fuselage strengthened; vertical stabilisers were added to the tail to aid stability when the Orbiter was being carried. (In practice, these were very rarely removed). The avionics and engines were also upgraded, and an escape system added, similar to that used for the first 747 Boeing test flights.
Flying with the drag and weight of the Orbiter poses fuel penalties - the range is reduced to just over 1000 nautical miles (1900 km), compared to an unladen range of 5500 nautical miles (10,000 km), meaning the SCAs normally had to stop several times on a transcontinental flight to refuel. Studies were made to equip the aircraft with aerial refuelling equipment, a practice used for several US Air Force 747s. However, during formation flying with a tanker aircraft to test this, some minor cracking was found on the tailfin of N905NA. It was felt that, whilst this was not likely to be due to the test flights, there was no sense pushing matters too far; as there was no urgent requirement to provide an aerial refuelling capacity, the tests were suspended.
In 1988, in the wake of the Challenger accident, NASA procured a surplus 747-100SR from JAL. N911NA, as it was newly registered, entered service with NASA in 1990 after similar modifications; it was first used in 1991 to ferry the new Endeavour from the manufacturers in Palmdale, California to Kennedy Space Center.
The two aircraft are functionally identical, although careful examination can differentiate between them; N911NA has five upper-deck windows, whilst N905NA only has two. N905NA is depicted in both the photograph and the diagram on this page.
In Soviet service, the Antonov An-225 'Cossack' performed the same role; the C-5 Galaxy was considered for the role by NASA, but rejected in favour of the 747.
Media
Template:Multi-video start Template:Multi-video item Template:Multi-video item Template:Multi-video item Template:Multi-video end
See also
External links
NASA fact sheet (http://www.nasa.gov/centers/dryden/news/FactSheets/FS-013-DFRC.html)