Shadow of the Hegemon
From Academic Kids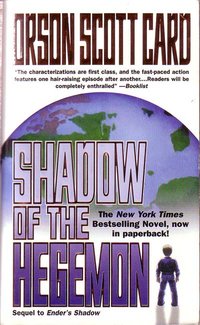 Shadow of the Hegemon is the second novel in Orson Scott Card's Ender's Shadow series (often called the Bean Quartet) and the sixth novel in the Ender's Game series. It is told mostly from the point of view of Bean, a largely peripheral character in the original Ender's Game.
Plot
In Shadow of the Hegemon the Battle School graduates, except for Ender, return to their homes on Earth. Ender's brother Peter, acting as his online pseudonym Locke (a conscious nod to John Locke), has caused Ender to return to Earth only to pick up Valentine before leaving for another planet. Shortly after the rest of the Battle School graduates return, the members of Ender's jeesh are kidnapped to be used as strategists in an oncoming world war.
The person behind the kidnappings, Achilles--the sociopath Bean foiled in the previous novel--attempts to kill Bean and his family, but they avoid the attempt. After Bean discovers an encoded message, he works to rescue Petra and the others while helping Peter come to power under his own name so he can eventually be appointed Hegemon and work against Achilles.
When Peter publishes a column under the Locke pseudonym revealing Achilles for the psychopathic murderer he is, Achilles is forced to release the rest of the kidnapped Battle Schoolers--except for Petra, whom he takes to India, where he has secured a position of power. From there, Achilles requests plans for an invasion of Burma and then Thailand. Indian Battle School graduates serving their country, including Sayagi and Virlomi, develop plans for brute-force attacks involving long supply lines. Petra, for her part, arranges a different plan, involving stripping India's garrisons along her borders with Pakistan--something she expects will never happen. What she does not know is that Achilles plans to arrange a nonagression pact with Pakistan, leaving the troops free to leave the border. He takes her along as a hostage to the meeting, and deftly arranges just such a treaty. Petra feels distinctly stupid.
Nonetheless her plan is not used, but for a different reason than Petra expects: Achilles is secretly working for China, and has arranged to have China attack India after India puts the bulk of its forces along the border of Thailand. At that point, Achilles plans to leave India for China, and continue his efforts towards world domination.
But Bean, having secured an alliance with Peter, has moved to Thailand, and fully intends to get in Achilles's way. He enters the Thai military under the patronage of Suriyawong, a fellow Battle School grad and now (nominal) head of Thailand's planning division. Bean trains his own force of 200 Thai soldiers for special operations against India. When Virlomi defects, bringing news of Petra, the three band together and, with the aid of Bean's soldiers and Locke's distinguished connections, move on Hyderabad, arriving just as the Chinese do. Bean foils Achilles again, rescues Petra, and--following the murder of Sister Carlotta by Achilles--learns about the secret of his genius and the doom it will bring him.
Main Characters