From Academic Kids
Rzeszˇw (pronounce: Missing image
Ltspkr.png
Image:Ltspkr.png

['ʒεʃuv]) is a city in south-eastern Poland with a population of 158 960 (2005), granted a town charter in 1354, the capital of the Subcarpathian Voivodship (since 1999), previously of Rzeszow Voivodship (1945-1998). In 2004, Rzeszˇw hosted the Central European Olympiad in Informatics (CEOI).
Location
Rzeszow is located on both sides of the Wislok river. It is located in the heartland of the Sandomierska valley. Rzeszow is also the capital of the Subcarpathian Voivodship, and site of the Rzeszow County.
History
Rzeszˇw was founded in 1354 by king Kaziemierz Wielki. For a long time it was just a domain of noble family of Lubomirski, one of most important in Poland. Beside famous yearly market Rzeszow remained only another city on trade route to Hungary. In 1658 Jerzy Sebastian Lubomirski established Piarist school, the second secondary school in Poland. During XIX century Rzeszˇw began to loose significance in favour of Przemysl.
Development of Rzeszˇw started when in year 1937 military industry was located in the city: Polskie Zakłady Lotnicze, producing plane engines, and factory of cannons by Hipolit Cegielski.
In 1944 Rzeszˇw became capital of voivodship and most important city in south-eastern Poland. Many factories were built in next 30 years. Nowaday, Rzeszˇw is continiously growing in population, new villiges join the city and a lot of work is made to modernise it.
Education
Rzeszˇw is the largest academic centre in south-eastern Poland. Several high schools and universities can be found there:
University of Rzeszˇw (established in 2001)
Technical University of Rzeszˇw (established in 1963)
Wyższa Szkoła Informatyki i Zarządzania
Wyższa Szkoła Zarządzania
Wyższa Szkoła Administracji i Zarządzania in Przemyśl, branch in Rzeszˇw
Transport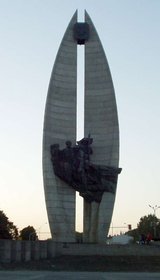 Transit
Rzeszˇw is located on international route number 4, connecting Germany and Ukraine. Traffic is therefore high, but as city has south distict, transit does not go through the city centre.
Airport
Rzeszˇw Airport is located in the village of Jasionka north of the city. Scheduled passenger services include flights to: Warsaw (WAW), Frankfurt (Hahn) and London (Stansted).
Buses
Rzeszˇw is a gateway to Bieszczady mountains, many buses head to Sanok.
Railway
Rzeszˇw is a step of main railway from Silesia to Polish eastern border and further to Ukraine. Big railway station was established in XIX century. There is also a unique, not electrified railway to Jaslo.
Culture
Theaters
Theatre of Wanda Siemaszkowa (est. 1944)
Theatre Maska
Museums
Etnographic Museum
Museum of City Rzeszˇw
Diocesan Museum
Economy
Industry
ICN Polfa Rzeszˇw (formerly Polfa Rzeszˇw) - pharmacy
Polskie Zakłady Lotnicze - plane engines
Zelmer - household equipment
Comp Rzeszˇw S.A - computer software
Tourist attractions
palace of Lubomirski family from XVIII cent.
main square
town hall, established in 1591
synagogues: "Small" (XVII cent.), "Big" (XVIII cent., restored 1954-63)
Sports
Media
Radio
Radio Rzeszˇw
Radio Eska Rzeszˇw
Akademickie Radio Centrum
Katolickie Radio Via
Radio RES
Press
Dzień Rzeszowa
Gazeta Codzienna NOWINY
Super Nowości
Television
Polish Television (TVP) branch in Rzeszow
Rzeszow's cable television
Local television DAMI
Municipal television Rzeszow
External link
de:Rzeszˇw
fr:Rzeszˇw lv:Žešova hu:Rzeszˇw nds:Rzeszˇw nl:Rzeszˇw pl:Rzeszˇw ro:Rzeszˇw