Roberto Clemente
From Academic Kids
Roberto Clemente Walker (August 18, 1934 – December 31, 1972) was a Major League Baseball right fielder and right-handed batter. He was elected to the Hall of Fame in 1973, being the first Hispanic American to be selected, and the only exception to the mandatory five-year post-retirement waiting period since it was instituted in 1954.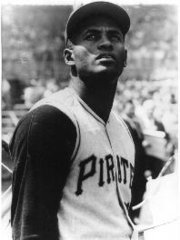 Clemente was born in Carolina, Puerto Rico, the youngest of four children. He played 18 seasons in the majors from 1955 to 1972, all with the Pittsburgh Pirates, winning the NL MVP Award in 1966.
Clemente was a 4-time NL batting champion, finishing in the top ten in batting average thirteen times. He finished his career with exactly 3,000 hits, the last one coming on what would turn out to be the last at-bat of his career on September 30, 1972 off Jon Matlack. He was the 11th player in history to reach this number. He also had one of the most powerful throwing arms of any outfielder in baseball history, which contributed to him winning 12 Gold Glove Awards for his outstanding defense. Perhaps Clemente's greatest feat was leading the Pittsburgh Pirates to a seven-game World Series victory over the Baltimore Orioles in 1971. He compiled a lifetime batting average of .317 and batted .300 or better 13 times, hitting 240 home runs.
A hero in his native Puerto Rico, Clemente spent much of his time during the off-season involved in charity work. He died in a plane crash off the coast of Carolina on December 31, 1972 while en route to deliver aid to earthquake victims in Nicaragua.
Puerto Rico has honored Roberto Clemente's memory by naming the coliseum in San Juan, Puerto Rico Coliseo Roberto Clemente. His native city, Carolina, has a sports complex called the "City of Roberto Clemente" (Ciudad Roberto Clemente). In Pittsburgh a bridge was named after him and the Pirates retired his number 21. Meanwhile, MLB presents the Roberto Clemente Award every year to the player who best follows Clemente's example with humanitarian work. Clemente was also posthumously awarded the Presidential Medal of Freedom. Several schools in the United States were named after Clemente.
Also see
Template:Sports in Puerto Rico
External links