Regional jet
From Academic Kids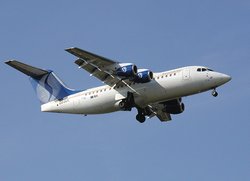 A regional jet (RJ) is a small jet aircraft that was intended to fly passengers from point to point as efficiently as possible. They are quickly evolving into the aircraft of choice for most domestic operations. They range in seating from 35 - 100 seats. They are often operated by commuter airlines.
History
In the early days of the hub-and-spoke model of airline operations in the immediate post-WWII era, a huge number of war-surplus DC-3's were available at very low costs. While there were a number of designs with much better operational costs, it wasn't until the mid to late 1950s when the DC-3 was becoming too expensive to maintain for passenger use that airlines started looking for newer models. Many of the DC-3's were passed on to freight operations, while a series of turboprop aircraft took over their market, the Vickers Viscount being one particularly successful example.
Beginning in the early 1960s, commercial air passengers began traveling on jet-powered aircraft with seating capacity from about 70 passengers to over 300. While these new jet-powered aircraft were a great stride forward and were popular in comparison to propellor aircraft, some of these jet aircraft were too large to be economical on shorter routes or on routes between smaller communities and the "mega-hubs" of the major FAR 121 carriers.
In the early 1980s, with the advent of deregulation, these earlier generation airliners operated by the existing previously regulated FAR 121 carriers, became more expensive to operate to these smaller communities compared to a group of new airline operators, many operating initially under FAR 135 rules. These new entrants operating very small 10-19 seat turboprop equipment such as the Beechcraft 99, SA-226/227 Metroliner, the BAE 3200 Jetstream, and later the Beech 1900 had much lower overall cost structures that particularly suited these shorter routes and grew very quickly. These new entrants, and in many cases their larger major airline partners, asked manufacturers to design and build a new generation of short-range turbine powered aircraft. de Havilland Canada was in a particularly good position at this point, having just introduced a new aircraft with very low operational costs, the de Havilland Canada Dash 8, which soon took over a good portion of the market. Upset by this "upstart", a number of larger aviation firms decided to enter the market, and by the late 1980s the turboprop-powered market included the ATR 42 and ATR 72 from the Avion de Transport Régional consortium, Dornier 328, Jetstream 41 and Saab 340. This surplus of designs resulted in the market saturating in a very short time once the earlier 1950s designs were replaced. Today only the DASH-8 continues in production, albeit a much larger version.
Many air passengers were not satisfied with propeller aircraft for a number of reasons. Such airplanes are slower than jets, they typically do not have air conditioning available during enplaning and deplaning operations. They in most cases cannot be connected to a jetway, have significantly reduced cabin size, may lack a flight attendant and an on-board lavatory. Performance issues include the inability to load a full complement of passengers when high fuel loads are required due to weather and air traffic delays. Yet these new small airline companies, conscious of their need to survive economically and provide a financial return to their owners, promoted the use of small tubine powered propellor commuter aircraft on routes extending to smaller cities. What was needed were more efficient small jet aircraft to fill a new niche, long routes with fewer passengers.
The first widely successful regional jet design was the Canadair Regional Jet (CRJ) (CL 600) in the early 1990s, which soon started replacing almost all other new aircraft purchases for these new regional airlines. The CRJ's range is enough to fill mid-range routes as well, routes previously served by larger aircraft such as the Boeing 737 and DC-9. The aircraft are very efficient and they were originally intended to be used for direct airport-to-airport flights, bypassing the whole hub-and-spoke design entirely.
As with the 1970s/'80s turboprops, the CRJ soon found itself with competition. To date the main competition has been the Embraer EMB-145, and the two designs have since been in hot competition, with some highly charged political wrangling as a result. Fairchild Dornier introduced the 328JET to compete, but went bankrupt soon afterwards. A fourth design from a consortium of Sukhoi, Ilyushin, and Boeing never materialized, and a Fokker-ERNO design ended when Fokker went bankrupt before the design was finalized. Bombardier, unlike with Shorts, Canadair, de Havilland and LearJet, when offered Fokker, turned the offer to purchase it down, and the design forcasted to replace the shelved BRJX died with Fokker. It appears that the "oversupply" situation of the '80s will not occur, leaving the market to be divided up by Canadair and Embraer.
Smaller jetliners have been a part of the market since the early days of jet airliners. The Sud Caravelle would today be placed in the "small" category due to size alone. Other examples include the 40-seat YAK 40 and mid-sized BAe 146 and Fokker F100. The key difference between these designs and current regional jets is operational costs, the new designs cost significantly less to operate, making them suitable for many different roles, as opposed to simply being "short-mid range airliners".
As the popularity of regional jets continues to grow with airlines, larger variants of these aircraft can be expected. These larger variants will blur the line between RJ's and traditional "full-size" jet aircraft. As an example, the original DC-9 jet aircraft were designed to seat approximately 75 passengers. RJ's have a ready market with airlines who appreciate their lower acquisition and operating costs.
Features
Regional jet aircraft are typically flown by the regional airline partners of the larger international airlines. An aircraft's lifetime cost is a combination of three factors, the purchase price, maintenance costs, and operational costs such as fuel use.
Seating on RJ's tends to be narrow and tight, and passengers typically are restricted from bringing on board carry-on items which would fit without difficulty in the overhead bins of larger aircraft. While designed primarily for medium stage lengths, these RJ's may now be found supplementing major trunk routes alongside traditional larger jet aircraft on routings including Dallas/Ft. Worth to Oakland, CA; Atlanta to Houston; and Cleveland to Newark. RJ's allow airlines to open new "long, thin" routings with jet equipment which heretofore did not exist, such as Atlanta to Monterrey, Mexico. RJ's have also meant a return to jet service to cities where full-size jet service had departed over a decade ago, such as Macon, Georgia.
The fact that regional jet aircraft are less expensive (per seat mile) than traditional jets is a common misconception. On a per mile basis the rj's cost can in fact be higher. The reason that regional jet operators provide an economic benefit to traditional airlines comes from the fee-per-departure payment structure under which these aircraft are operated. In this payment structure, a traditional airline contracts with a regional airline company on a per departure or per flight basis regardless of the number of passengers or the length of the flight. The traditional airline gets to keep all the revenue from the ticket sale and only pays the regional partner the agreed to amount. These contracts tend to be long term agreements, typically 10 year terms. The regional airline partner can then be relatively sure of the revenue side and only has to control cost in order to earn a modest return.
The idea that regional jets would provide point-to-point service and bypass the hub-and-spoke system may not be materializing as it was expected. As of January 2003 90% of all regional jet flights in the United States had a hub or major airport at one end of that flight, and this number has been gradually increasing since 1995.
List of regional airliners