Pug
From Academic Kids
Pug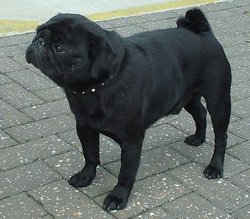 Alternative names
Country of origin
China
Classification and breed standards
| | | |
| --- | --- | --- |
| FCI: | Group 9 Section 11 #253 | Stds (http://www.google.com/search?q=cache:-kPG-MYXhxUJ:www.fci.be/uploaded_files/253gb98_en.doc+site:www.fci.be+%22253+/+11.+05.+1998+%22&hl=en&ie=UTF-8) |
| AKC: | Toy | Stds (http://www.akc.org/breeds/pug/index.cfm) |
| ANKC: | Group 1 (Toys) | Stds (http://www.ankc.aust.com/pug.html) |
| CKC: | Group 5 - Toys | Stds (http://www.canadasguidetodogs.com/toys/pug_std.htm) |
| KC(UK): | Toy | Stds (http://www.the-kennel-club.org.uk/discoverdogs/toy/y918.htm) |
| NZKC: | Toy | Stds (http://www.nzkc.org.nz/br160.html) |
| UKC: | Companion Breeds | Stds (http://www.ukcdogs.com/breeds/companions/pug.std.shtml) |
The Pug is a small but robust toy dog breed with a compressed, wrinkly face.
Appearance
The Pug's appearance is characterized by a flat, wrinkled face, compact body, and curled tail. Pugs have four color variations: fawn with a black mask and ears, entirely black, silver, or apricot. The silver or apricot-fawn colors should be decided so as to make the contrast complete between the color and the trace and the mask. The breed generally stands between 10 and 11 inches (25–28 cm) tall at the withers with an ideal weight range of 14 to 18 lb (6.3 to 8.1 kg).
Temperament
The Pug is a very sociable dog, as well as being quite stubborn. The Pug is popular as a housepet, as it requires little exercise and is easy to groom, although they shed substantially more than other dogs of similar size. They are also compatible with most children and other animals.
They are not noted for high achievement in obedience competitions, although, like all dog breeds, they are intelligent and learn quickly in the right environment. According to the book The Intelligence of Dogs, they are only fair in their ability to learn new commands and to obey commands the first time; however, there is much debate about how to accurately measure dog intelligence.
Health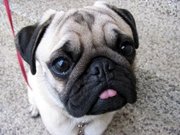 Because they have extremely short snouts, some Pugs easily scratch their corneas, and can develop breathing problems. They are also prone to skin infections if the crevices in their face are not kept clean. Teeth and mouth problems are also caused by the flat faces. Pugs are prone to obesity, and can reach unhealthy weights.
Pugs can also suffer from a chronic form of Granulomatous Meningoencephalitis (an inflammation of the brain) specific to the breed called Pug Dog Encephalitis (PDE). PDE is estimated to occur in 1% of Pugs. There is no known cause or cure for PDE although it is believed to be an inherited disease. [1] (http://www.pugs.org/health/PDEslideshow_files/frame.htm). PDE is invariably fatal. All dogs either die or are put to sleep within a few months after the onset of clinical signs. [2] (http://www.petplace.com/articles/artPrinterFriendly.asp?conID=22694).
History
Pugs were originally bred in China to be royal companions and royal "bed warmers". For this, Pugs are also called Chinese Pugs.
Miscellaneous
Famous Pugs
Pugs in the arts
A Pug named Frank appeared in the popular movies Men in Black and Men in Black II. Celebrities such as Maura Tierney, Carol Kane, and Tori Spelling have appeared in TV and print ads with their Pugs. A Pug was also one of the stars of the movie The Adventures of Milo and Otis.
Trivia
Winston Churchill, whose wife called him by the nickname "Pug", wrote a short poem about a Pug:
Poor Puggy-wug
Oh, what is the matter with poor Puggy-wug
Pet him and kiss him and give him a hug.
Run and fetch him a suitable drug,
Wrap him up tenderly all in a rug,
That is the way to cure Puggy-wug.

Dog Pictures and Clipart
Pictures of Dogs (http://classroomclipart.com/cgi-bin/kids/imageFolio.cgi?direct=Animals/Dogs)
Dog Clipart (http://classroomclipart.com/cgi-bin/kids/imageFolio.cgi?direct=Clipart/Animals/Dog_Clipart)
Clipart and Animal Pictures