Portuguese Timor
From Academic Kids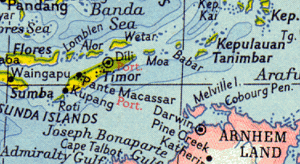 Portuguese Timor is the former name (1596 - 1975) of East Timor when it was under Portuguese control. During this period, Portugal shared the island of Timor with the Dutch East Indies.
Although Portugal was neutral during World War II, in December 1941, Portuguese Timor was occupied by Australian and Dutch forces, which were expecting a Japanese invasion. When the Japanese did occupy Timor, in February 1942, the Allies and Timorese volunteers engaged them in a guerilla campaign. (See: Battle of Timor (1942-43) The struggle resulted in the deaths of 40,000-70,000 Timorese.
After 1949, the Dutch East Indies became independent as Indonesia. In 1975, Portuguese Timor declared its independence and changed its name to East Timor. This was quickly followed by an Indonesian invasion and annexation.
From the Portuguese and international perspective, it was technically only on May 20, 2002 that Portuguese Timor ceased to exist, as the territory gained independence once again.
See also: History of East Timores:Timor Portuguesa id:Timor Portugis pl:Timor Portugalski