Porphyrin
From Academic Kids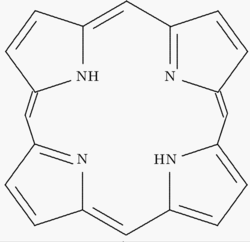 A porphyrin is a heterocyclic macrocycle made from 4 pyrrole subunits linked on opposite sides through 4 methine bridges. The macrocycle, therefore, is completely aromatic, unlike the related corrins or chlorins.
Types of porphyrins and related molecules
Porphyrins combine readily with metals, coordinating with them in the central cavity. Iron-, zinc-, copper-, nickel-, and cobalt-containing porphyrins are known, and many other metals can be inserted. A porphyrin in which no metal is inserted in its cavity is called a "free base".
Some iron containing porphyrins are called hemes, and heme-containing proteins, or hemoproteins, are found extensively in biochemistry such as haemoglobin.
If one of the four pyrrole subunits is reduced, a chlorin is produced, the ring structure found in chlorophyll. If two of the four pyrrole subunits are reduced, then either a bacteriochlorin (as found in some photosynthetic bacteria), or an isobacteriochlorin, depending on the relative positions of the reduced pyrroles, is formed.
Porphyrin synthesis
Table
This is a schematic representation of porphyrin biosynthesis, with references by EC number and the OMIM database. The porphyria associated with the deficiency of each enzyme is also shown:
In brief
Please see the articles on individual enzymes
Missing image
Heme_synthesis.png
The committed step for porphyrin synthesis is the formation of D-Aminolevulinic acid from glycine (an abundant amino acid) and succinyl-CoA (from the citric acid cycle). Two dALA molecules are combined into porphobilinogen (PBG), which contains the pyrrole ring. Four PBGs are then combined through deamination into hydroxymethyl bilane (HMB), which is hydrolysed to form the circular tetrapyrrole uroporphyrinogen III. This molecule undergoes a number of further modifications. Intermediates are used in different species to form particular substances, but in humans, the main end product protoporphyrin IX is combined with iron to form heme.
See also
External links