Peter Hollingworth
From Academic Kids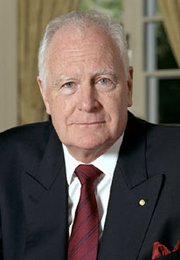 The Right Reverend Dr Peter Hollingworth (born April 10, 1935), Australian clergyman and 23rd Governor-General of Australia, became the first Governor-General to resign his office as a result of criticism of his conduct, when on 28 May 2003 he resigned following the release of an Anglican Church report finding that he had mishandled allegations of sexual abuse by Anglican priests during his tenure as Archbishop of Brisbane.
Early life and career
Peter Hollingworth was born in Adelaide, South Australia before moving to Melbourne as a boy. After attending state primary schools, he was educated was at the elite Scotch College. After completing his secondary education he began work for BHP, an Australian mining company. Hollingworth apparently often spent his lunch hours in the local Anglican church, and at this point the idea of becoming a priest was first suggested to him.
Conscripted for "National Service" in 1953, Hollingworth began work in the Chaplain's Office, and decided to become a priest. He attended the University of Melbourne, living at Trinity College, graduating in 1960 with a Bachelor of Arts and a Licentiate of Theology. Hollingworth became a deacon, then the priest in charge of St Mary's, a church in North Melbourne. In 1964, he joined the Brotherhood of St Laurence, an Anglican charity which helps the disadvantaged, ultimately rising to the position of Executive Director and spending 25 years with the Brotherhood.
In 1976 Hollingworth was made an Officer of the Order of the British Empire (OBE), and in 1988 he became an officer of the Order of Australia (OA) for this work. As well as these secular honours, he was elected Canon of St Paul's Cathedral in 1985 and consecrated a bishop of the Inner City in 1985. During this time, he completed a Master of Arts in Social Work, and wrote several books about his work with the poor.
In 1989, Hollingworth was elected Archbishop of Brisbane, after winning a tightly-contested election for the position. During the 1990s, the Anglican Church in Queensland, like many other churches around the world at the time, was beset by problems with sexual misconduct (ranging from breaches of the church's own rules to criminal paedophilia). Hollingworth's handling of these issues as the administrator of Queensland's Anglicans would later give rise to much controversy.
Governor-General
Hollingworth was appointed Governor-General of Australia by Prime Minister John Howard in May 2001. Shortly afterwards he was awarded the Lambeth Degree of Doctor of Letters by the Archbishop of Canterbury, Dr George Carey. While Hollingworth did not submit a thesis for this award, it is not regarded as an honorary degree and confers the title of "Dr".
On 29 June Hollingworth became Governor-General. The appointment of a clergyman, and specifically Hollingworth, as Governor-General attracted substantial controversy and some negative comment. Sir William Deane, his predecessor, had been popular with political opponents of the Howard government for his comments on social issues. Howard and conservatives in the media believed that Deane's outspokenness had been inappropriate.
There was negative comment on the choice of a bishop to such an important secular office. While some in the conservative press welcomed his appointment, expecting him to be less outspoken on social issues than Deane, others argued that Hollingworth could not divorce himself from his religious role and that such a combination of religious and secular authority was inappropriate in Australia, a secular country. Hollingworth's personal qualities were also questioned, for instance in the Canberra Times where he was described as "the vainest man in Australia". There was also disappointment that a woman was not appointed to the office.
Controversy over sexual abuse in the Brisbane Diocese
On 17 February 2002 allegations that Hollingworth, as Archbishop of Brisbane, had attempted to cover up several instances of sexual abuse, were aired on a television current affairs program. Most of the allegations were about the handling of a case in a Toowoomba school where a staff member abused at least two boarders. Hetty Johnston, leader of an organisation supporting victims of child abuse, was instrumental in bringing the issues to the attention of the media, and was vociferous in criticising Hollingworth and called for his resignation.
The next day, Hollingworth appeared on a television program and gave a lengthy interview. In it, he discussed the media criticisms and some of the cases mentioned, expressing his sympathy for the victims of abuse, discussing the restrictions that the legal situation and his responsibilities to the Church organisation placed on his ability to publicly sympathise with the victims, and discussing the personal pressures he was under at the time. Most attention from the interview was directed at comments he made about one case, where a priest had sexually abused a 14-year-old girl:
"The great tragedy about this situation is that the genesis of it was 40 years ago and it occurred between a young priest and a teenage girl who was under the age of consent," Hollingworth said. "I believe she was more than 14. And I also understand that many years later in adult life, their relationship resumed and it was partly a pastoral relationship and it was partly something more. My belief is that this was not sex abuse. There was no suggestion of rape or anything like that. Quite the contrary, my information is that it was, rather, the other way around. And I don't want to say any more than that."
This comment led to further public and media criticism of Hollingworth. The Melbourne newspaper The Age called for Hollingworth's resignation, and opinion polls indicated that a large majority of Australians agreed. Opposition Leader Simon Crean echoed these calls, citing Hollingworth's "serious errors of judgement" and referring to what he viewed as the lack of support for the governor-general in the community and the damage that the controversy was causing to the office.
The situation was unprecedented in Australia: the removal of a Governor-General for reasons of personal conduct had not been contemplated in the past. Howard, who in practice had virtually sole discretion on the Governor-General's continued appointment, rejected calls for Hollingworth to be removed or resign. He said that he believed that while Hollingworth may have made "errors of judgement", he saw no evidence that he had been "soft on child abuse".
Meanwhile, Hollingworth's successor as Archbishop of Brisbane, Dr Phillip Aspinall, instituted a church board of inquiry into the diocese's handling of sexual abuse complaints. The enquiry examined the written records of the Church's actions, as well as seeking sworn statements from Hollingworth and other church officials. To allow the public release and discussion of the final report, the Premier of Queensland, Peter Beattie, tabled the report in the Queensland Parliament in May 2003.
The report examined the handling of nine complaints of sexual abuse during Hollingworth's time as Archbishop. In the majority of cases, the board concluded that his actions were appropriate. On the Toowoomba case, the board found that Hollingworth's actions "could not be criticised", as he had been entitled to assume on the information available that the Headmaster and the School Council were handling the matter properly.
Hollingworth was however criticised for his lack of expression of compassion towards the victims. In one case, where Hollingworth chose not to apologise on behalf of the church to the victim of abuse (the 14-year-old girl mentioned previously), the board considered that "there must have been a way in which Dr Hollingworth could have provided some compassionate recognition of the wrong which the Complainant had suffered."
The handling of another complaint, one that had not attracted as much media attention until the report was released, contained much more serious criticism of Hollingworth's actions. In this case, John Elliot, a church worker who later became a priest, had sexually abused a number of boys. Hollingworth interviewed Elliot, who confessed to the offences. After referring the priest to a psychiatrist, and discussing the matter with two bishops, Hollingworth allowed Elliot to continue in the ministry, under the condition that he avoid situations dealing with children and young people and be supervised by his wife.
In this case, the board made very serious criticisms of Hollingworth, stating that he had "apparently reconstructed what he believed he was told, rather than recalled what in fact was said", and that "even if the abuse had been an isolated incident", that "no Bishop acting responsibly could have reached the decision to continue a known paedophile in the ministry". It further described Hollingworth's decision, whilst "made in good faith", as "untenable."
The reaction to the release of the report was another round of denunciation of Holligworth in the media. While some commentators said that Hollingworth was being subjected to a witch-hunt, most newspapers called for his resignation. Several ministers in the Howard government suggested that the Hollingworth should "follow his own conscience," suggesting that they wanted him to resign.
Meanwhile, in December 2002, a civil suit had been lodged in the Victorian Supreme court by Rosemary Ann Jarmyn seeking compensation from Hollingworth and several church organisations. Jarmyn claimed that she had been raped at a church youth camp in Bendigo, a Victorian country town, in the early 1960s by a man she later identified as Hollingworth, from a photograph of him taken around that time in a church newsletter. Jarmyn sought, and obtained, a suppression order on the case, and Hollingworth concurred. Hollingworth told Howard of the allegation at the time, as Howard later confirmed. Jarmyn committed suicide in April 2003, but the case went on with her family as plaintiffs.
The case became public knowledge when an Opposition politician, Lindsay Tanner, asked in Parliament whether there were any civil cases pending against the Governor-General. Hollingworth then made a public statement saying that he had never raped anyone and had not been in Bendigo at the time. Church colleagues supported Hollingworth's denial. In the face of specific denials of Hollingworth and witnesses, the Jarmyn family's solicitors dropped the case.
On 11 May, Hollingworth and Howard held private discussions. Howard then announced that Hollingworth would "stand aside" while the rape allegations were dealt with, and that no decision would be made on his long-term future until they were dealt with. The senior state Governor, Sir Guy Green of Tasmania, became Administrator (acting Governor-General) until Hollingworth's final resignation on 28 May 2003. After leaving office Hollingworth resumed volunteer pastoral work with the Anglican Church.
External links