P-3 Orion
From Academic Kids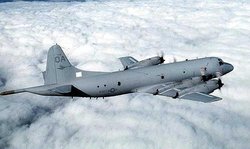 The Lockheed P-3 Orion is a patrol aircraft of the United States military used primarily for anti-submarine warfare.
Design
The P-3 Orion is based on the Lockheed L-188 Electra. The first production version, designated P3V-1, first flew 15 April 1961, but by the time the first deliveries were made in 1962, the unified designation system made this the P-3.
Over the years, many variants have been developed.
The P-3 Orion has found special use as an earth-science suborbital research platform for NASA. Known as callsign NASA 426, this aircraft is located at Goddard Space Flight Center's Wallops Island Flight Facility, Virginia.
The P-3 is slated for replacement between 2010-2013 by the Boeing MMA, based upon their 737 civilian aircraft. Australia is considering both the MMA and a navalized version of the Global Hawk as a replacement.
Variants
P-3A: original production version; 157 built
P-3A (CS): four with better radar, for US Customs
EP-3A: seven modified for electronic reconnaissance testing
NP-3A: three modified for US Naval Research Laboratory
RP-3A: two modified for scientific uses, for Oceanographic Development Squadron at NAS Patuxent River
TP-3A: 12 modified for training, ASW gear removed
UP-3A: 38 used as utility transports, ASW gear removed
VP-3A: three WP-3As and two P-3As converted into VIP/staff transports
WP-3A: four converted for weather reconnaissance
P-3B
EP-3B
NP-3B
P-3C

Update I
Update II
Update II.5
Update III
Update IV
AP-3C upgrade (Royal Australian Air Force)

EP-3C
NP-3C
RP-3C
UP-3C
RP-3D
WP-3D: two modified for NOAA weather research, including hurricane hunting
EP-3E Aries
NP-3E
P-3F
P-3G
P-3H
EP-3J: two modified from P-3A's for FEWSG use
P-3K: five delivered to New Zealand operated by 5 Squadron RNZAF from Whenupai, together with a P3B purchased from Australia and brought up to P3K standard.
P-3N
P-3P
P-3W
P-3AEW&C
CP-140A Arcturus
Specifications (P-3 Orion)
Missing image
P-3C_Orion.jpg
General characteristics
Crew: 11
Length: 116.58 ft (35.57 m)
Wingspan: 99.50 ft (30.36 m)
Height: 33.58 ft (10.27 m)
Wing area: 1300 ft² (120.8 m²)
Empty: 61,500 lb (27,900 kg)
Loaded:
Maximum takeoff: 139,800 lb (63,400 kg)
Powerplant: 4 × Allison T-56-A-14 turboprops, 4,900 hp (3,700 kW)
Performance
Maximum speed: 466 mph (745 km/h)
Combat range: 2,700 miles (4,400 km)
Ferry range: 5,600 miles (9,000 km)
Service ceiling: 28,300 ft (8,600 m)
Rate of climb: 3,140 ft/min (957 m/min)
Armament
External links
Related content
See also:
ja:P-3 (対潜哨戒機)