Orange County, Florida
From Academic Kids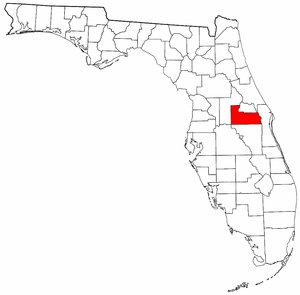 Orange County is a county located in the state of Florida. As of 2000, the population is 896,344. Its county seat is Orlando, Florida6.
History
Mosquito County was created in 1824. It was renamed Orange County in 1845 for the fruit that constituted the county's main product. At its peak in the early 1970's, some 80,000 acres (320 km²) were planted in citrus in Orange County. Today however, no commercial orange groves remain, having been swallowed by growing housing developments. However, several packing plants and wholesalers who get their oranges from elsewhere in Florida are still in Orange County.
Paved roads
The first paved roads in Orange County, outside the cities, were built in 1915 and 1916 under a $600,000 bond issue, approved by voters on November 11, 1913. These five roads were paved 9 feet (3 meters) wide with brick:
Missing image
Orange_County_1926_Bond_Issue_roads.png
In the next ten years, the following roads also received a hard surface:
Another bond issue, this time for $7,000,000, was approved by voters on March 23, 1926. These asphalt roads covered almost all parts of the county; most of them are still main roads. There are too many to list here but a map is available.
See also: Apopka-Vineland Road
Geography
According to the U.S. Census Bureau, the county has a total area of 2,601 km² (1,004 mi²). 2,350 km² (907 mi²) of it is land and 251 km² (97 mi²) of it is water. The total area is 9.63% water.
Demographics
As of the census2 of 2000, there are 896,344 people, 336,286 households, and 220,267 families residing in the county. The population density is 381/km² (988/mi²). There are 361,349 housing units at an average density of 154/km² (398/mi²). The racial makeup of the county is 68.59% White, 18.17% Black or African American, 0.34% Native American, 3.35% Asian, 0.09% Pacific Islander, 6.01% from other races, and 3.43% from two or more races. 18.78% of the population are Hispanic or Latino of any race.
There are 336,286 households out of which 32.40% have children under the age of 18 living with them, 47.00% are married couples living together, 13.70% have a female householder with no husband present, and 34.50% are non-families. 24.20% of all households are made up of individuals and 6.50% have someone living alone who is 65 years of age or older. The average household size is 2.61 and the average family size is 3.14.
In the county the population is spread out with 25.30% under the age of 18, 10.90% from 18 to 24, 33.80% from 25 to 44, 20.00% from 45 to 64, and 10.00% who are 65 years of age or older. The median age is 33 years. For every 100 females there are 98.00 males. For every 100 females age 18 and over, there are 95.70 males.
The median income for a household in the county is $41,311, and the median income for a family is $47,159. Males have a median income of $32,053 versus $25,402 for females. The per capita income for the county is $20,916. 12.10% of the population and 8.80% of families are below the poverty line. Out of the total population, 16.30% of those under the age of 18 and 9.30% of those 65 and older are living below the poverty line.
Election controversy
In the 2001 U.S. election Orange County was at the center of a number of controversies about voter registration and alleged irregularities. It is under scrutiny again in 2004.
Cities and towns
Incorporated
Unincorporated
External Links
Government links/Constitutional offices
Special Districts
Judicial branch
Tourism