Old Harry Rocks
From Academic Kids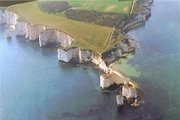 Missing image
Old_Harry_rocks_peak.jpg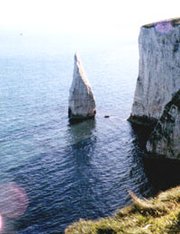 Old Harry Rocks at Handfast Point are a small but characteristic set of coastal landforms off Ballard Down at the eastern end of the Jurassic Coast world heritage site near Swanage in Dorset, England. The rocks are situated in the English Channel where the Purbeck Hills fall into the sea. The rocks include a collection of islands, a natural arch, stacks and stumps on a wave cut platform formed by erosion of the chalk cliffs. Sometimes the name Old Harry is used to refer to the sea arch part and Old Harry's Wife to the stump. The rocks are part of a once continuous band of chalk which ran through south Dorset, Ballard Down and the Isle of Wight, part of the southern England Chalk Formation.
The rocks and the downs are a short walk from Studland and Swanage, and are a few miles south of the gateway towns of Poole and Bournemouth.
Legend says that the Devil had a sleep on the rocks, which lead to the old euphemism of the Devil being called "Old Harry".
External links