North Backa District
From Academic Kids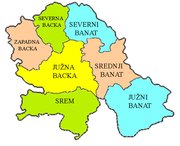 North Bačka District (Serbian: Severnobački okrug, Hungarian: Észak Bácskai Körzet, Croatian: Sjevernobački okrug, Slovak: Severobáčsky okres, Romanian: Districtul Backa de Nord) is a northern district of Serbia. It lies in the Bačka region in the autonomous province of Vojvodina.
It encompasses the municipalities of (Serbian followed by Hungarian name):
It has a population of 200,140. Seat of the District is in the city of Subotica.
Population of District is ethnically mixed. It is composed of: Hungarians 87,181 (43.6%), Serbs 49,637 (24.8%), Croats, Bunjevci, Yugoslavs and others.
Languages spoken in District: Serbian and Croatian (48%), Hungarian (44%), and others.
The North Bačka District comprises of 3 municipalities and 45 local communities.
Two municipalities have Hungarian ethnic majority: Bačka Topola (59%) and Mali Iđoš (56%), while one municipality (Subotica) is ethnically mixed. Population of Subotica is composed of: Hungarians (38.5%), Serbs (24.1%), Croats (11%), Bunjevci (11%), Yugoslavs (6%), Roma (2%), Montenegrins (1%), and others.
As for local communities, 20 have Hungarian majority, 15 have Serb majority, 7 have Croatian/Bunjevci majority, 1 has a Montenegrin majority and 2 are ethnically mixed, with Hungarian relative majority.
Subotica is a multi-ethnic and multi-religious center; in addition to the major Roman Catholic and Serb Orthodox, there are other nearly thirty small-size religious communities in the town. The most remarkable church buildings are: the Cathedral of St. Theresa of Avil from 1797, the Franciscan Monastery from 1723, the Orthodox Church from the XVIII century, the Synagogue and Orthodox Church in Aleksandrovo, both from XVII century.
In keeping with its very rich ressources, the region's food processing industry is well developed. The best examples are "29 novembar" meat industry, "Pionir" Sweets Factory and "Fidelinka" bread and flour products factory. Subotica ranks among the leading communities in Serbia and Montenegro when it comes to crop (maize, wheat and sunflower) yields.
Official website of North Backa District (http://www.severnabacka.sr.gov.yu/)
Note: All official material made by Government of Serbia is public by law. Information was taken from official website (http://www.serbia.sr.gov.yu/).sr:Северно-Бачки округ