New York Observer
From Academic Kids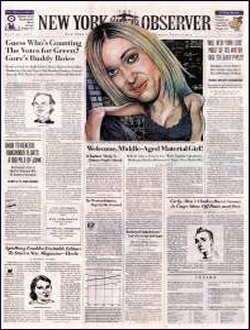 The New York Observer is a weekly newspaper first published in New York City on September 22, 1987 by Arthur L. Carter, a very successful former investment banker with publishing interests. The Observer focuses on the city's culture, real estate, the media, politics and the entertainment and publishing industries. It covers the rich and powerful of New York with an unusual depth of coverage although has been criticized for its narrow focus on the upper east side of Manhattan and its liberal political perspective.
It is perhaps best known for publishing Candace Bushnell's column on Manhattan's social life on which the hit television series Sex and the City was loosely based. Published every Wednesday, the newspaper's editorial team is led by distinguished journalist ex PBS Peter Kaplan, with other writers including Joe Conason, Tish Durkin, Christopher Byron, Hilton Kramer, Rex Reed, Greg Sargent, Andrew Rice and Gabriel Snyder. It is visually distinctive because of its salmon-colored pages and sketch illustrations. Henry Rollins once described it as "the curiously pink newspaper."
The New York Observer asserts to advertisers that it delivers Manhattan's most affluent, educated and influential consumers, with the average net worth of its readership exceeding $1.7 million and 96% of readers being college graduates. It has a paid circulation of 51,000.
The Publisher, Arthur Carter has had other publishing interests including the Litchfield County Times and the East Hampton Star, both of which extensively report on the social lives of the wealthy and powerful in those communities. Carter received an A.B. in French literature from Brown University and an M.B.A. in Finance from the Amos Tuck School at Dartmouth College. He spent twenty-five years in investment banking before in 1981 founding the New Milford, Connecticut based The Litchfield County Times and owned it for twenty years until its sale to Journal Register Company. He has been adjunct Professor of Philosophy and Journalism at New York University and is currently a Trustee. He is also a sculptor of some acclaim.
External links