Neil Diamond
From Academic Kids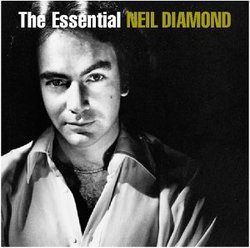 Neil Diamond (born Neil Leslie Diamond on January 24, 1941) is an American singer/songwriter who has had a number of hits in the 1960s, 1970s, and 1980s, and who has maintained a very loyal following with popular live performances to this day.
Diamond was born and raised in Brooklyn, attending high school with Barbra Streisand (and singing with her in the school choir). He learned to play guitar after receiving one as a gift on his 16th birthday.
He spent his early career as a writer in the Brill Building, and had an early success writing the song "I'm a Believer" for The Monkees.
When he first auditioned to record, his producers wanted him to change his name so it would be less ethnized. The name Eice Cherry was suggested, but, at the last moment Neil decided to keep his real name.
He signed a deal with Bang! Records, and had a string of singles as the primary performer, including "Kentucky Woman", "Cherry, Cherry", and "Solitary Man".
He moved to Los Angeles, California in 1970, and signed a deal with MCA Records (then called Uni Records). His sound mellowed, with such songs as "Sweet Caroline" and "Song Sung Blue". "Sweet Caroline" has since become a rallying cry of Red Sox Nation, however unlikely this may seem.
In 1973, Diamond hopped labels again, this time to Columbia Records, where he recorded the soundtrack to Jonathan Livingston Seagull. In 1974, he released the album Serenade (songs: "Longfellow Serenade", "I've Been This Way Before"). In 1976, he released Beautiful Noise, produced by The Band's Robbie Robertson.
In 1977, he released an album I'm Glad You're Here With Me Tonight, which included the track "You Don't Bring Me Flowers". The song was covered by Barbra Streisand on her album Songbird, which led one disc jockey to combine the two in a virtual duet. The popularity of the virtual duet motivated Diamond and Streisand to record the real thing, which became a very large hit in 1978. A movie version of the song (starring Diamond and Streisand) was planned, but plans fell through when Diamond starred in a remake of the Al Jolson classic The Jazz Singer in 1980, opposite Sir Laurence Olivier and Lucie Arnaz. Though the movie was not a blockbuster hit at the box office, the soundtrack was a hugely successful album, spawning the singles "America", "Love On The Rocks", and "Hello Again". This would be the apex of his recording career.
In 2000, he was awarded the Sammy Cahn Lifetime Achievement Award by the Songwriters Hall of Fame.
Today, Diamond continues to tour, and still releases new studio and live compilation box sets of his greatest hits, and most recently recorded an album of movie songs. Members of his family now perform in his back-up band. He is currently recording a new album with producer Rick Rubin that is expected to be released on July 26, 2005.
As of May 2005 he has sold 120 million records worldwide (Source: NY Times (http://www.nytimes.com/2005/05/22/arts/music/22lela.html)) ,including 50 million records in US (Source: RIAA (http://www.riaa.com/gp/bestsellers/topartists.asp)).
See also
External links