Munro
From Academic Kids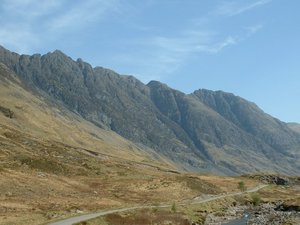 A Munro is a Scottish hill with a height over 3000 feet (914.4 m). They are named after Sir Hugh Munro (1856–1919), who produced the first attempt at an exhaustive catalogue of such hills, known as Munro's Tables, in 1891.
There are other classifications of lower Scottish hills, including the Corbetts, the Grahams and (in the south of the country), the Donalds. However, the Munros are unique in that they lack a rigid set of criteria for inclusion. Since the list's initial publication, much debate has taken place over how distinct two hills must be if they are to be considered as two separate Munros. The decisions of the editors of The Tables (the Scottish Mountaineering Club (SMC)) have often been criticised for being subjective and erratic, with some hills being removed from The Tables in one revision, only to be graced with Munro status again in the next.
The SMC's current revision lists 284 Munros. They are all in the Scottish Highlands, north of the Highland Boundary Fault. The tables also include many more tops which are high points which are regarded as being insufficiently distinct to merit being tabulated as separate mountains.
Despite their modest height, walking and climbing in the Scottish mountains may be made treacherous by their latitude and exposure to Atlantic weather systems. Even in summer, conditions can be atrocious; thick fog, strong winds, driving rain and freezing summit temperatures are commonplace. Winter ascents of certain Munros are widely accepted to provide among the most challenging ice climbs in Europe. Sadly, some walkers are unprepared for the often extreme weather conditions on the exposed tops and many fatalities are recorded every year, often resulting from slips on wet rock or ice.
Some hillwalkers climb Munros with an eye to climbing every single one—a practice casually known as "Munro-bagging". Having climbed all of them, a walker is entitled to be called a Munroist. Munro-bagging is undoubtedly the most popular form of Peak bagging.
Probably the most famous Munro is Ben Nevis in the Lochaber area. It is the highest peak in Scotland and the entire U.K, with an altitude of 1,344 m (4,409 ft). Other famous Munros include:
Notable completions
Hugh Munro never completed his own list, missing out on Carn an Fhidhleir and Carn Cloich-mhuillin. Sir Hugh is often credited with missing out the Inaccessible Pinnacle of Sgurr Dearg, on the Isle of Skye, which he never climbed. However the "In Pinn" was not included on his list (despite being several metres higher than Sgurr Dearg, which was).
The first completionist is generally regarded to be the Reverend A. E. Robertson, in 1901. However some research has cast doubt on this claim, and it is not certain that he reached the summit of Ben Wyvis. If Robertson is discounted the first Munroist is Ronald Burn, who completed in 1923. Burn is also (undisputedly) the first person to climb all the subsidiary "tops".
Hamish M. Brown did the first continuous self propelled round of the Munros (except for the Skye and Mull ferries) between April 4th and July 24th 1974 walking 1,639 miles (2,638 km), 150 km of which were on a bicycle, with 449,000 feet (137 km) of ascent. The walk is fully documented in his book "Hamish's Mountain Walk", which is often credited with kick-starting the popularity of Munro-bagging as a hobby.
The first person to complete a winter round (all the Munros in one winter season) was Martin Moran in 1985.
On July 16, 2000, Charlie Campbell, a postman from Anniesland in the west end of Glasgow, scampered across the upper slopes of Ben Hope in Sutherland, clambered on to the summit cairn and so completed, in 48 days 12 hours, the fastest round of the Munros as of 2003.
As of 2003, more than 3,000 people have completed the Munros.
See also
External links