Monschau
From Academic Kids
Monschau (French: Montjoie) is a city in the west of Germany, located in the district Aachen, North Rhine-Westphalia. It is located at Template:Coor dm, and as of 2002 it has a population of 13,050. An area of 94.61 km² belongs to the city, ranging in altitude between 350 and 650 m above mean sea level.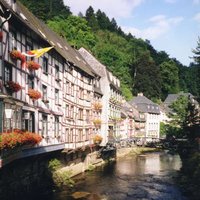 The city is located in the hills of the Eifel, in the narrow valley of the Rur river. The historic city center wasn't destroyed in World War II, thus the many half-timbered houses and narrow streets nearly unchanged for 300 years make it a popular tourist attraction nowadays. Historically the main industry of the city were cloth-mills.
History
Above the city is the castle Monschau, which dates back to the 13th century - in 1198 the first mention of Monschau was made. Starting in 1433 the castle was used as a seat of the dukes of Jülich. In 1543 Emperor Charles V. besieged it as part of the Geldern Feud, captured it and plundered the city. However the castle stayed with Jülich until 1609, then it became part of Palatinate-Neuburg.
1795 French captured the area, and under the name Montjoie made it the capital of a canton of the Roer département. After the area became part of Prussia again in 1815, Monschau became the capital of a district, the Kreis Montjoie. In 1918 the German Emperor changed the name to Monschau.
In 1972 the city was enlarged with the previous independent municipalities Höfen, Imgenbroich, Kalterherberg, Konzen, Mützenich and Rohren.
External links