Mike Ditka
From Academic Kids
Missing image
Coachmikeditka.jpg
Mike Ditka (born October 18, 1939, in Aliquippa, Pennsylvania) is a former NFL player, coach, and television commentator best known for his 11-year stint as head coach of the Chicago Bears. He is the only person to have won a Super Bowl as a player, assistant coach, and head coach; and was the only participant in the Chicago Bears two championships in the modern era, as a player in 1963 and as head coach in 1985.
Player
After an All-American senior season at Pitt in 1960, Ditka was drafted to play tight end by the Bears. His presence was immediately felt. In his first season, Ditka had 56 receptions, introducing a new dimension to a tight end position that had previously been dedicated to blocking. His success earned him NFL Rookie of the Year honors. He continued to play for the Bears for the next five years, earning a Pro Bowl trip each season. He played on the 1963 NFL championship team. Many of the players from that team, including Ditka, were drafted by asst. coach George Allen, a future hall of famer, who was then in charge of the Bears drafts. Ditka was traded to the Philadelphia Eagles in 1967, where he spent two seasons, before being shipped off to the Dallas Cowboys in 1969. He spent four seasons with the Cowboys, highlighted by a touchdown reception in the Cowboys' 24-3 victory over the Miami Dolphins in Super Bowl VI.
In 1988, his fearsome blocking and 427 career receptions earned him the honor of being the first tight-end ever inducted into the Pro Football Hall of Fame. Mike Ditka is a member of the Sigma Chi Fraternity.
Coach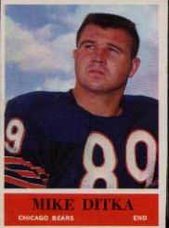 Retiring after the 1972 season, Ditka was immediately hired as an assistant coach by Cowboys' head coach Tom Landry. Ditka spent nine seasons as an assistant coach with the Cowboys. During his tenure, the Cowboys made the playoffs eight times, won six division titles and three NFC Championships, including the one preceding their Super Bowl victory in 1977.
In 1982, Ditka left the Cowboys to become head coach of the luckless Bears. Reversing the Bears' pitiful record of only two winning seasons in the previous nineteen, Ditka led the Bears to six NFC Central titles and three trips to the NFC Championship. Ditka's coaching career hit its pinnacle in 1986 with a 46-10 trouncing of the New England Patriots in Super Bowl XX. Football commentators widely regard the Bears defense in 1986 as one of the best ever.
He was awarded Coach of the Year honors in 1985 and 1988 by The Sporting News, the Associated Press, and pro football writers.
He left the Bears in 1992. Four years later, he returned to coach the New Orleans Saints, which he refers to as the "3 worst years" of his life. Over a total of 14 seasons as a head coach, Ditka amassed a record of 127-101-0.
Broadcaster
After leaving the Bears in 1992, Ditka took a broadcasting job with NBC, working as an analyst on NFL Live and as a color commentator for many other NBC broadcasts. From the 2000 to the 2001 season he was a studio analyst on The NFL Today on CBS Sports. He is currently a commentator on ESPN NFL Live. Ditka has appeared in countless commercials and has done guest spots and cameos on shows from L.A. Law to Saturday Night Live. In 2005, Ditka portrayed himself in the comedy Kicking and Screaming.
Politics
In July 2004, Ditka was reportedly considering running against Democrat Barack Obama for an open seat in the U.S. Senate for Illinois in the 2004 Senate election. This seat was being vacated by Peter Fitzgerald, a Republican. On July 14, however, Ditka announced he would not seek the nomination, citing personal and business considerations (his wife was against the run and he operates a chain of restaurants). Barack Obama went on to defeat former ambassador Alan Keyes in the November 2004 election.
Philosophy
Ditka is known in the sports world for his gritty approach to winning and a fiery temper. Mike leads by his code word ACE: Attitude, Character and Enthusiasm.
Documented Ditka witticisms include:
"Success isn't measured by money or power or social rank. Success is measured by your discipline and inner peace."
"Attack always."
"If you're not in the parade, you watch the parade. That's life."
"You're never a loser until you quit trying."
External links