Luxair
From Academic Kids
Luxair (Luxair Société Luxembourgeoise de Navigation Aérienne SA) is the national airline of the Grand Duchy of Luxembourg.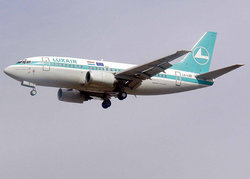 Missing image
Luxair.erj-145.arp.750pix.jpg
Code Data
History
Originating from the Luxembourg Airlines Company, which was created in 1948, Luxair was created in 1961 to meet the requirements of an expanding demand for air connections between Luxembourg and other European capitals.
In 1962, Luxair started flight operations with the launch of the Luxembourg-Paris route with a Fokker F27 Friendship. By 1967, Luxair's fleet consisted of three Fokker Friendship and one Vickers Viscount. The latter was replaced in 1970 by the airline's first jet liner, a Caravelle built by Sud Aviation in Toulouse. The first Boeing aircraft, a Boeing 737-200, joined the fleet in 1977. Over the years, Luxair gradually replaced its fleet with modern Boeing 737-400 and Boeing 737-500 jets as well as Fokker 50 and Embraer turbo-props.
In 2003, Luxair ordered 2 new Boeing 737-700, in order to replace its existing fleet of older jets. The first of those aircraft was delivered on 18 February 2004, introducing a new corporate identity for the company. It is the first winglet equipped aircraft of the type in service in Europe.
Incidents and Accidents
On November 6 2002 Luxair Flight 9642, a Fokker 50 aircraft flying from Berlin, Germany crashed on final approach near Niederanven airport (Luxembourg), killing 20 passengers and crew.
Fleet
The Luxair fleet consists of the following aircraft (at April 2005):
2 Boeing 737-500
3 Boeing 737-700
External Link