Ludwigsburg Palace
From Academic Kids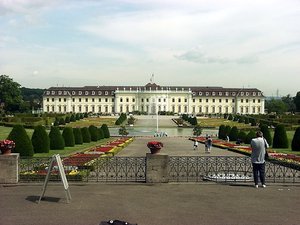 Missing image
Jagdschloss_Favorite.jpg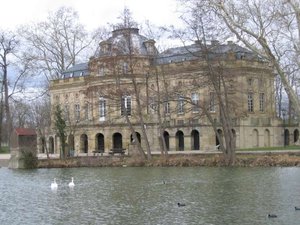 Ludwigsburg Palace is Germany's largest baroque palace and features an enormous baroque garden. It is located in the city of Ludwigsburg (10 km north of Stuttgart's city center). The Palace was at times one of the most magnificent courts in Europe (according i.a. to G. Casanova).
The foundation stone was laid on May 17, 1704 under Duke Eberhard Ludwig of Württemberg (reigning monarch from 1693 to 1733). One year later the site was named "Ludwigsburg" (in English: Ludwig's castle). Begun as a hunting lodge, the project became much more complex and gained momentum over the years.
On August 17, 1709, the duke established the city of Ludwigsburg directly next to his palace. In 1718, Ludwigsburg became temporarily capital and sole residence of the dukes of Württemberg. Later on, under the successors of Eberhard Ludwig, the residence was transferred back to nearby Stuttgart.
In 1733, when the construction phase had been completed, the baroque style was absolutely prevailing in Germany. Eventually, successors of Eberhard Ludwig modified the original design of the palace. Especially, Duke Carl Eugen of Württemberg (1728 - 1793) and King Friedrich of Württemberg (1754 - 1816) have to be mentioned.
Today, three different styles are dominating therefore:
Baroque (e.g. Old Main Building, Rest Room of New Main Building, Building of the Giants, Games & Hunting Pavilions, Court Capel)
Rococo (e.g. Order Chapel, Duke's Private Suite, New Main Building) - modifications by Duke Carl Eugen
Empire (e.g. Marble Hall, King's Audience Chamber, Queen's Bed Room, King's Library) - modifications by King Friedrich
Main architects, who were involved in the construction and refurbishment of the site, are:
Under King Wilhelm I of Württemberg, the palace and especially the gardens decayed gradually because the monarch, in contrast to his predecessors, showed no interest in Ludwigsburg Palace. He favored his own palace projects "Wilhelma" (Moorish Style) and "Rosenstein" (Classicism) in Stuttgart.
Ludwigsburg Palace was not destroyed during World War II, so a renaissance of the complex could start in the mid 20th century. The continuous garden show "Blossoming Baroque", that attracts hundreds of thousands visitors each year, opened in 1953. Nowadays the palace and its surrounding gardens are presented to the public in a state very similar to their appearance around 1800.
The palace theater (Europe's oldest preserved) and its stage machinery from 1758 is still operational.
Additionally, the Ludwigsburg Palace nowadays offers three museums:
Baroque Gallery (Old Main Building) - a branch of State Gallery Stuttgart - presents the State Gallery's collection of Baroque paintings
Porcelain Museum (New Main Building) - a branch of Württemberg State Museum Stuttgart
Baroque Fashion Museum - a branch of Württemberg State Museum Stuttgart - presents clothes from 1750 to 1820
Two smaller palaces complete the royal compound in Ludwigsburg: "Favorite" (built from 1713 to 1728) and "Monrepos" (built from 1764 to 1768).
External links
Ludwigsburg Palace (Official web site of the state home authority Baden-Württemberg) (http://www.schloesser-magazin.de/eng/objekte/lb/lbthe.php)