Louis Botha
From Academic Kids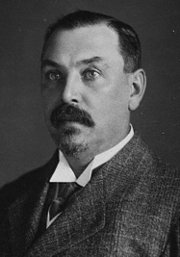 fr: Louis Botha Louis Botha (September 17 1862-August 27, 1919) was an Afrikaner and first Prime Minister of the modern South African state, then called the Union of South Africa.
He became a member of the parliament of Transvaal in 1897, representing the district of Vryheid. Two years later he was made a general in the Second Boer War, fighting with impressive capability at Colenso and Spioenkop. On the death of P. J. Joubert, he was made commander-in-chief of the Transvaal Boers, where he demonstrated his abilities again at Belfast-Dalmanutha. After the fall of Pretoria, he led a concentrated guerrilla campaign against the British together with Koos de la Rey and Christiaan de Wet.
He later worked towards peace with the British, representing the Boers at the peace negotiations in 1902. His war record made him prominent in the politics of Transvaal and he was a major player in the postwar reconstruction of that country, becoming Prime Minister of Transvaal in 1907. In 1911, together with another Boer war hero, Jan Smuts, he formed the South African Party, or SAP. Widely viewed as too conciliatory with Britain, Botha faced revolts from within his own party and opposition from James Barry Munnik Hertzog's National Party. When South Africa obtained dominion status in 1910, Botha became the first Prime Minister of the Union of South Africa.
The constitution that Botha became Prime Minister under had no bill of rights, and allowed for legislative impediments against the inclusion of Africans into the government. Although Botha's SAP was not as radically nationalistic as Herzog's National Party, Botha was very involved in the first steps of the South African government toward apartheid.
After the First World War started, he sent troops to take German South West Africa, a move unpopular among Boers, which provoked the Boer Revolt.
At the end of the War he briefly led a British Empire military mission to Second Polish Republic during the Polish-Soviet War. He argued that the terms of the Versailles Treaty were too harsh on the Central Powers, but signed the treaty anyway.