Lockheed L-188 Electra
From Academic Kids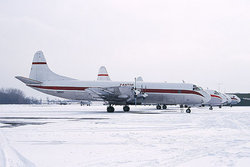 Missing image
Atlantic.airlines.lockheed.electra.atlanticairlines.arp.750pix.jpg
The Lockheed L-188 Electra first flew in 1957, and was the first turboprop airliner built in the USA. It delivered performance only slightly inferior to that of a full jet aircraft, at a lower operating cost.
On September 29, 1959, a Braniff Electra mysteriously broke up in flight over Buffalo, Texas, en route from Houston to Dallas. Just under six months later, on March 17, 1960, an Electra operated by Northwest Orient broke up in flight over Tell City, Indiana, en route from Chicago to Miami, Florida. NASA and Lockheed engineers eventually determined that the engine mounts allowed too much fore and aft movement of the propellers ("propeller whirl"), which created an aeroelastic phenomenon called "flutter" in flight. This flutter, by pure chance, occurred at the wings' natural resonant frequency, setting up a negatively damped harmonic oscillation that eventually led to separation of a wing from the fuselage. The engine mounts were redesigned and the problem was solved.
Almost every airline in the US flew Electras, but the only European airline to order the type was KLM; Britain's airlines used the Vickers Viscount.
The Electras flew in commercial service until the mid-1970s, when many were sold to the United States Navy for use as P-3 Orion anti-submarine aircraft. Others were retired into air cargo use. A total of 144 L-188's were built, 57 of which have been destroyed in accidents as of September 2004, according to the Aviation Safety Network (http://aviation-safety.net/database/type/type.php?type=334).
Specifications
Passengers: 99 to 127
Engines: Four Allison 501 turboprop engines, rated for 3,750 hp (2,800 kW)
Cruise Speed: 390 mph (620 km/h)
Ceiling: 28,400 ft (9,500 m)
Range: 2,200 mi (3,500 km)
See also: List of civil aircraft
External links
de:Lockheed L-188 Electra