Lies and the Lying Liars Who Tell Them
From Academic Kids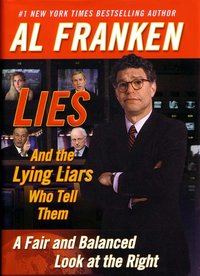 Lies and the Lying Liars Who Tell Them: A Fair and Balanced Look at the Right is a book of political commentary and satire by humorist Al Franken, published in 2003 by Dutton, a subsidiary in the Penguin Group. The book's subtitle is an ironic parody of FOX News' tagline "Fair and Balanced". Fox sued Franken over the use of the phrase in a short-lived lawsuit that is frequently credited with increasing the sales of the book.
Summary
Lies and the Lying Liars Who Tell Them is one of several books published in 2003 written by liberals challenging the viewpoints of prominent conservatives such as Sean Hannity, Ann Coulter, and Bill O'Reilly. These liberal-oriented books by Franken and fellow authors such as Joe Conason, Michael Moore and Jim Hightower have been described by columnist Molly Ivins as the Great Liberal Backlash of 2003.
Lies largely targets prominent Republicans and conservatives, highlighting perceived inaccuracies in their claims. A significant portion of the book is devoted to comparisons between President George W. Bush and former President Bill Clinton regarding their economic, environmental, and military policies. Franken also criticizes several journalists, especially those he believes to be the most dishonest, including Bill O'Reilly and Sean Hannity.
In Lies, Franken divides American media into two groups, (a) the unbiased "mainstream" and (b) the biased "right-wing":
"The mainstream media does not have a liberal bias. . . . ABC, CBS, NBC, CNN, the New York Times, The Washington Post, Time, Newsweek and the rest -- at least try to be fair."
But the right-wing media -- FOX News, the Washington Times, the New York Post, the Journal editorial page, talk radio -- are "biased," the book declares. They have "an agenda." They are "not interested in conveying the truth." They "concoct an inflammatory story that serves their political goals." [1] (http://www.washingtonpost.com/wp-dyn/articles/A56418-2003Aug27.html)
Franken makes this distinction in an effort to debunk the claim, popular among some journalists, that the media is liberally biased.
The book also criticizes Ann Coulter on a number of points related to what Franken perceives as abuses or violations of journalistic ethics in her book Slander. He particularly attacks her on bases of the factual accuracy on a few of her claims about the reporting of the New York Times. He also makes an issue of her mischaracterization of her books' citations--and accuses her of deliberately misusing citations in order to further a political agenda--by using endnotes, rather than footnotes. Footnotes, he observes, are easy to locate, verify, and analyze. Endnotes, he argues, are obfuscations--especially when there are 720 of them. Lies itself uses two endnotes, for the sole purpose of illustrating this difficulty. He also points out and assails other methods of circumventing the truth that, he argues, Coulter and her neoconservative ilk frequently use.
Publicity
FOX News sought damages from Franken, claiming in its lawsuit that the book's subtitle violated its alleged trademark rights in the phrase "Fair and Balanced". The lawsuit was dismissed, and the attempt backfired on FOX News in that it provided Franken with free publicity just as the book was launched. "The book was originally scheduled to be released Sept. 22 but [was] made available Aug. 21," according to its publisher. "We sped up the release because of tremendous demand for the book, generated by recent events."
In the lawsuit, Fox described Franken as "intoxicated or deranged" as well as "shrill and unstable." In response, Franken joked that he had trademarked the word "funny", and that Fox had infringed his intellectual property rights by characterizing him as "unfunny." The publicity resulting from the lawsuit propelled Franken's as-of-then-unreleased book to the #1 sales position on Amazon.com's best-seller list.
On August 22, 2003, U.S. District Judge Denny Chin denied Fox's request for an injunction to block the publication of Franken's book, characterizing the network's claim as "wholly without merit, both factually and legally." Three days later, Fox filed papers to drop its lawsuit.
Franken, and others, said Fox's lawsuit was brought at its commentator Bill O'Reilly's insistence. Following the lawsuit's dismissal, a Fox spokeswoman stated, "It's time to return Al Franken to the obscurity that he's normally accustomed to." Franken, in turn, suggested that the Judge had unwittingly supplied Fox with a more defensible trademark: "Wholly Without Merit".
Reviews
"Al Franken [is the man] of the hour. For years, we have suffered while right-wing bullies hijacked American politics and media -- persecuting a president for a consensual sex act; stealing the 2000 election; trashing the country's economy, environment and constitutional safeguards; handing the government over to the highest corporate bidders; deceiving the public into a bloody quagmire; and then brazenly smearing anyone who dared to criticize this orgy of dreadful leadership as un-American. The instant, runaway success of Franken's new book is not just a result of Fox News' inexplicable decision to shoot itself in the foot and head by launching an idiotic trademark-infringement lawsuit, but also the author's bold -- and roaringly funny -- knack for confronting the Bush presidency and its prevaricating apologists." -- Salon.com[2] (http://archive.salon.com/opinion/feature/2003/09/03/franken_dean/)
"Al Franken is the Spongebob Squarepants of the radical left. Outside of the obvious physical resemblance, Franken has other characteristics in common with the cartoon character. He is almost competent at what he does, has an over-inflated value of his self-importance, and is all too frequently given over to mindless bleeting [sic] when upset. The comparison is probably a bit harsh, and it's an unintended insult to Spongebob that my five-year-old daughter probably won't forgive. It is, however, true --- unlike 99 percent of what is in Franken's new book, Lies, and the Lying Liars Who Tell Them." -- Joe Hartlaub, Book Reporter[3] (http://www.bookreporter.com/reviews/0525947647.asp)
"In the kicking, spitting spirit of current all-star political discourse, Al Franken gives as good as he gets. His quintessential ad hominem attack title, Rush Limbaugh Is a Big, Fat Idiot, has already established his flair for the requisite games. Name calling, fact molding, gotcha!: all figure prominently in Mr. Franken's instant best seller Lies and the Lying Liars Who Tell Them: A Fair and Balanced Look at the Right, just as they do in most of the books that Lies attacks. Whatever their partisanship, these sporting diatribes share two underlying attitudes: 'What gray area?' and 'It's all about me.'" -- Janet Maslin, New York Times
Book table of contents
Hummus
Ann Coulter: Nutcase
You Know Who I Don't Like? Ann Coulter
Liberals Who Hate America
Loving America the Al Franken Way
I Bitch-Slap Bernie Goldberg
The 2000 Presidential Election: How it Disproved the Hypothetical Liberal Media Paradigm Matrix
Conclusion: A Lesson Learned
Five Get-Rich-Quick tips the Wall Street Fat Cats Don't Want You To Know
Chapter for American book by Kharap Juta (where Al imagines if the book had been outsourced)
I'm Funnier than Kharap Juta
The Chapter on Fox
Bill O'Reilly: Lying, Splotchy Bully
Hannity and Colmes
The Blame-America's-Ex-President-First Crowd
Operation Ignore
Our National Dialogue on Terrorism
Humor in Uniform
Who Created the Tone?
Did the Tone Change?
Why did Anyone Think It Would?
I Grow Discouraged About the Tone
I'm Prudenized (i.e. get quoted of context by Wes Pruden, editor of the Washington Times)
Paul Gigot is Unable to Defend an Incredibly Stupid Wall Street Journal editorial
"This was not a memorial to Paul Wellstone"
I Attend the White House Correspondents Dinner and Annoy Karl Rove, Richard Perle, Paul Wolfowitz, and the Entire Fox News Team
The Lying Years
Bush Can't Lose with Clinton's Military
Operating Chickenhawk: Episode One (A prequel to "Operation Chickenhank" in Rush Limbaugh is a Big fat Idiot)
Fun with Racism
I'm a Bad Liar (visit to Bob Jones University)
Thank God for Jerry Falwell
Abstinence Heroes
Abstinence Heroes II
"By Far the Vast Majority of My Tax Cuts Go to Those at the Bottom"
The Waitress and the Lawyer: A One-Act Play
The Gospel of Supply Side Jesus (Comic)
I Challenge Rich Lowry to a Fight
Vast Lagoons of Pig Feces: The Bush Environmental Record
I Meet Former First Lady Barbara Bush and It Doesn't Go SO Well
My Personal Search for Weapons of Mass Destruction
The No Child Left Behind Standardized Test
What is a Lie?
ISBN numbers
See also
External links
Rebuttals
"Lying liar" (http://www.lyingliar.com) - Criticism of Franken and the book, which facetiously calls itself "The Official Al Franken Website".
Frankenlies.com (http://www.frankenlies.com/) - a website that lists assertions in the book its authors believe are lies or errors.
Counter-rebuttals
Reviews