Lachine Canal
From Academic Kids
Missing image
LachineCanal1920.jpg
The Lachine Canal is a canal passing through the southwestern part of the Island of Montreal, Quebec, Canada, through the boroughs of Lachine on land originally granted by the King of France to the Sulpician Order.
Beginning in 1689, attempts were made by the French Colonial government and several other groups to build a canal that would allow ships to bypass the treacheous Lachine Rapids. After more than 130 years of failure, a consortium that included the young Scottish immigrant John Redpath was successful. John Richardson was Chairman of the Committee of Management of the canal project and its chief engineer was Thomas Brunett. The contractors were Thomas McKay and John Redpath, plus the firms of Thomas Phillips & Andrew White and Abner Bagg & Oliver Wait. The new canal officially opened in 1825, helping turn Montreal into a major port and eventually attracting industry to its banks when the Sulpician Order decided to sell lots.
However, while the Lachine canal proved an enormous boon for Montreal and the province of Quebec, time would show that for Canada's Maritime Provinces, it was the first major nail in that region's economic coffin.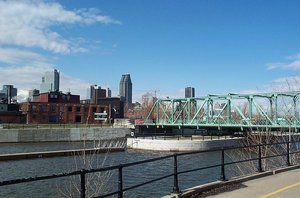 The canal became obsolete and was closed in 1959, being replaced by the South Shore Canal of the Saint Lawrence Seaway. In 2002, it was reopened as a pleasure boating area, despite environmental concerns due to heavy industrial contamination of its bottom, and the banks of the canal were redeveloped.
The banks of the canal offer bicycling and roller blading, as well as no fewer than two National Historic Sites: the Lachine Canal National Historic Site and The Fur Trade at Lachine National Historic Site, and one environmental reclamation project trying to clean up old oil spills.