Key Tower
From Academic Kids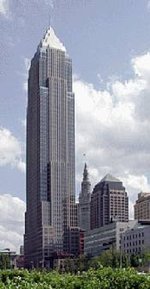 Key Tower is the tallest building in Cleveland, surpassing the Terminal Tower, as well as the tallest building in Ohio and the 15th tallest building in the United States. Key Tower reaches 57 stories or 947ft (289m) to the top of its spire, and it can be visible for up to twenty miles away.
It was originally built as the Society Center but was renamed when Key Bank acquired Society Bank. Society had recently acquired Ameritrust and cancelled Ameritrust's plans for an even taller building. Key Tower is owned and was developed by The Richard E. Jacobs Group, Inc although Key Bank's official headquarters are in most of the tower.
Key Tower's construction was completed in 1991 and many believe it was purposely built a few feet higher than Philadelphia's tallest building (One Liberty Place) to make it statistically the tallest building between Chicago and New York City. However, the pending construction of the 975-foot Comcast Center in Philadelphia will take away this distinction.
The official address of Key Tower is 127 Public Square, Cleveland, Ohio 44114 and Key Tower is located in the Civic Center Zone of Downtown Cleveland.
Related Topics