Kent, Connecticut
From Academic Kids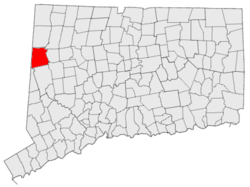 Kent is a town located in Litchfield County, Connecticut, alongside the border with New York. As of the 2000 census, the town had a total population of 2,858. Its ZIP code is 06757. Long-time resident Henry Kissinger often conducts his television interviews from the town. Also, Seth MacFarlane, creator of the show Family Guy, was born and lived here. Kent is also home to Kent School, a New England boarding school. Also, KenMont and KenWood camps are located here.
Geography
Kent is located in Litchfield County. Its location is Template:Coor dms.
According to the United States Census Bureau, the town has a total area of 128.4 km² (49.6 mi²). 125.5 km² (48.5 mi²) of it is land and 2.9 km² (1.1 mi²) of it is water. The total area is 2.26% water.
Demographics
As of the census2 of 2000, there are 2,858 people, 1,143 households, and 744 families residing in the town. The population density is 22.8/km² (59.0/mi²). There are 1,463 housing units at an average density of 11.7/km² (30.2/mi²). The racial makeup of the town is 95.77% White, 0.56% Black or African American, 0.77% Native American, 0.98% Asian, 0.03% Pacific Islander, 0.70% from other races, and 1.19% from two or more races. 2.52% of the population are Hispanic or Latino of any race.
There are 1,143 households out of which 28.6% have children under the age of 18 living with them, 55.6% are married couples living together, 6.7% have a female householder with no husband present, and 34.9% are non-families. 28.3% of all households are made up of individuals and 12.6% have someone living alone who is 65 years of age or older. The average household size is 2.43 and the average family size is 2.99.
In the town the population is spread out with 22.8% under the age of 18, 5.2% from 18 to 24, 26.3% from 25 to 44, 27.8% from 45 to 64, and 17.8% who are 65 years of age or older. The median age is 43 years. For every 100 females there are 93.9 males. For every 100 females age 18 and over, there are 90.6 males.
The median income for a household in the town is $53,906, and the median income for a family is $66,065. Males have a median income of $46,343 versus $31,493 for females. The per capita income for the town is $38,674. 3.2% of the population and 0.1% of families are below the poverty line. Out of the total population, 0.0% of those under the age of 18 and 10.8% of those 65 and older are living below the poverty line.
Kent Falls State Park
Missing image
KentFalls.JPG
Kent Falls State Park, with its scenic view of the 250' (in multiple stages) Kent falls of the Housatonic River is located in Kent. A trail winds a quarter of a mile up along the falls, not difficult to walk but steep and uneven. The park is stocked with trout from the state's hatcheries.