Just a Poet With a Soul
From Academic Kids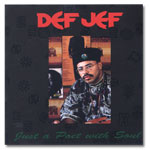 Just a Poet With a Soul is the debut alternative hip hop album by Def Jef, released in 1989 (see 1989 in music), released on Delicious Vinyl. The album was highly praised upon its first release, with critics enjoying the sociopolitical lyrics that have led some to Def Jef along with De La Soul and other members of the Native Tongues Posse, though he was never a part of the crew. Many have called the album a lost classic of hip hop.
Track listing
"Droppin' Rhymes on Drums" (with Etta James)
"Givin' Em Rhythm"
"On the Real Tip"
"Poet With Soul"
"Give It Here"
"Do You Wanna Get Housed"
"Black to the Future"
"Do It Baby"
"God Made Me Funky"
"Downtown"
"Just A Poet"