Julian Lennon
From Academic Kids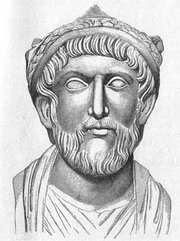 Julian Lennon (christened John Charles Julian Lennon), born April 8, 1963 in Liverpool, England is a British singer, songwriter, musician, first son of Beatle John Lennon and Cynthia Powell. He was born at 6am and weighed 6lbs 8oz. His godfather was Beatles manager Brian Epstein. It is often suggested that Julian is almost identical in appearance to his late father. His father's nickname for him was "JCJ." If Julian had been a girl he would have been named Julia, most likely after his late paternal grandmother. John Lennon was forced to conceal the fact he was both married and had a child at the risk it might hurt The Beatles' popularity.
Julian's father, John, refused to let his mother hire a nanny for him. Growing up, John was kept away because of the explosion of Beatlemania.
Julian attented the set of The Beatles movie "Magical Mystery Tour."
Lennon has always lived in the shadow of his famous father, who split with his mother while Julian was still young. He has had an up-and-down career as a musical artist, becoming popular with his debut album Valotte and hit song "Too Late for Goodbyes" in 1984, and again in the late 1990s; at other times he has had disappointing sales and Julian started taking drugs and drinking heavily. After 1991 left the music business entirely for a number of years.
In the 1980's Julian lived temporarily with percussionist Ray Cooper.
Julian has always been close with the other members of The Beatles, particularly Paul McCartney. Paul and his wife Linda visited Julian in 1974 to take photographs of him for John. When Julian released "Valotte", Paul sent him a telegraph wishing him good luck. In 1984 the two reuinted on the set of Friday Night Videos. In 1991, George played on Julian's album "Help Yourself" but he was not credited.
It was occasionally speculated that a Beatles reunion might take place with Julian in his father's place, though the idea was endorsed neither by Julian nor the remaining Beatles. The death of George Harrison has made such a reunion less likely.
Julian was responsible for the name of one of his father's most famous songs, "Lucy in the Sky with Diamonds", a phrase Julian used to describe a picture he had drawn, a watercolour painting of a girl (his classmate Lucy) surrounded by stars. Later, Paul McCartney wrote "Hey, Jude" as a way of consoling Julian because of his parents' divorce. Interestingly, 'Hey Jude' was meant to be 'Hey Jules', but Paul changed the name because he thought 'Jude' was a better name. Years later, Julian Lennon bought the original manuscript of "Hey Jude" in an auction.
"Good Night" on the White Album, although sung by Ringo Starr, is a song by John Lennon to his son, Julian. Also on the White Album is "Dear Prudence" which is Julian Lennon's favourite song.
Julian Lennon is engaged to model Lucy Bayliss. Despite having drug and alcohol problems in the 1980s he is now sober.
External link