Joyce Cary
From Academic Kids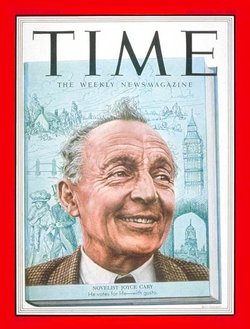 This article is about the male author Joyce Cary. There is an actress named Joyce Carey.
Joyce Arthur Cary (born Arthur Joyce Lunel, December 7, 1888 - March 29, 1957) was an Irish novelist and artist.
Life
He was born in Londonderry, descended from the Joyces of Galway (hence his unusual first name). Cary studied art in Paris and Edinburgh before deciding that he would be better suited to a career in writing rather than in painting.
After reading law at Oxford University, Cary went to Montenegro in 1912 to serve as a Red Cross orderly in the Balkan Wars, where he met his future wife.
Returning to Ireland the next year, Cary took up a post in the Irish government, but soon joined the Nigerian political service. During the First World War Cary served with a Nigerian regiment fighting in the German colony of Cameroon.
After the war, Cary moved to Oxford in 1920, and he stayed there until his death of motor neurone disease in 1957.
Work
He began to seriously write after moving to Oxford. His first four novels, set in Africa, drew heavily from his experiences in Nigeria. Mister Johnson, widely regarded as his greatest novel, was published in 1939.
Cary also wrote a trilogy about an artist named Gulley Jimson; Herself Surprised (1941), To Be A Pilgrim (1942) and The Horse's Mouth (1944). The latter was adapted into a successful movie by the director Ronald Neame, starring Alec Guiness as Jimson.
In the 1950s, Joyce Cary wrote another trilogy: Prisoner Of Grace, Except The Lord and Not Honour More.
He is widely regarded as one of the finest English language novelists of the early 20th century.
Bibliography
Selected works:
External links
Brief overview (http://www.encyclopedia.com/html/C/Cary-J1oy.asp)
Facts about Cary (http://www.pgil-eirdata.org/html/pgil_datasets/authors/c/Cary,Joyce/life.htm)
Links to sites (http://library.marist.edu/diglib/english/englishliterature/20thc-britauthors/cary-joyce.htm)