John Simpson Kirkpatrick
From Academic Kids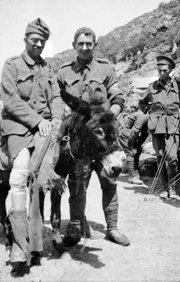 John Simpson Kirkpatrick (July 6, 1892 - May 19, 1915), also known as Jack Simpson, was a stretcher bearer with the Australian and New Zealand Army Corps at Gallipoli during World War I. He landed at Anzac Cove on April 25, 1915 and, on that first night, took a donkey and began carrying wounded from the battle line to the beach for evacuation. He continued this work for three and a half weeks, completely ignoring the shrapnel, sniper and machine gun fire that surrounded him, until finally his luck ran out and he was killed.
Today Simpson and his Donkey is an Anzac legend. Kirkpatrick is probably the best known soldier of the First Australian Imperial Force, which is ironic because he was not a fighting man nor an Australian. Born in South Shields, County Durham in 1892, he left home in 1909 to work as a stoker and steward on merchant ships. On May 13, 1910 he jumped ship in Australia and found work as a coal miner. He spent periods stevedoring and stoking on ships travelling between the Australian ports, going wherever there was work and always sending money home to his family, as he was the only son.
At the outbreak of war, he jumped ship again in Fremantle and enlisted in the Australian Army Medical Corps as a stretcher bearer under the name of "Jack Simpson". Kirkpatrick's intention was to get free passage back to England but his plans were upset, much to his disgust, when the AIF stopped in Egypt, first for training and then for the invasion of the Gallipoli peninsula. The Australians, mistaking his Geordie accent for Irish, nicknamed him "Murphy".
Kirkpatrick enlisted as "No. 202 Private Jack Simpson" with C Section, Australian 3rd Field Ambulance, which was the medical unit attached to the Australian 3rd Brigade that provided the covering force, first ashore, at Gallipoli. The 3rd Field Ambulance travelled to Gallipoli aboard RMT Devanha and transferred to Royal Navy destroyer HMS Ribble for the landing. Kirkpatrick went ashore with his bearer section of four men but was the only one to reach the beach unscathed. Without the rest of his section, he began operating as an independent unit, which was accepted by the commander of the 3rd Field Ambulance. Kirkpatrick took over a donkey, which he named variously "Duffy", "Murphy" and "Abdul", that had been landed for one of the field artillery units. Leading this donkey, he began his journeys from the beach, up Shrapnel Gully and then Monash Valley. On his way up he would carry water, on the way back wounded, particularly those with leg wounds. At night he camped with an Indian field ambulance unit near the beach.
There was literally nowhere at Anzac that was safe from Turkish fire and Monash Valley was particularly bad as the Turks held the heights at the end of the valley and could fire down its length. Kirkpatrick carried on, apparently indifferent to the danger. On the morning of May 19, the day after a major Turkish attack had been repulsed, Kirkpatrick began his usual routine. He was returning down Monash Valley with two wounded men when he was killed instantly by machine gun fire near Steele's Post, the two men he was carrying being hit also. John Simpson Kirkpatrick is buried in Beach Cemetery at Anzac Cove.
Kirkpatrick was Mentioned in Dispatches for "gallant and distinguished service in the field" but recommendations for the Distinguished Conduct Medal and, later, the Victoria Cross, were rejected.
Missing image
John_Simpson_Kirkpatrick_headstone.jpg

Missing image
The_Man_with_the_Donkey_statue_oblique_view.jpg