Johann Georg Palitzsch
From Academic Kids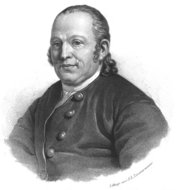 Johann Georg Palitzsch (June 11 1723 – February 21 1788) was a German astronomer.
In December 1758 he observed the return of Comet Halley, as had been predicted by Edmond Halley in 1705.
A crater and a vallis (valley) on the Moon are named after him.
The asteroid 11970 Palitzsch is named after him.
External links
Photo (http://web4.si.edu/sil/scientific-identity/by_name_display_results.cfm?scientist=Palitzsch,%20Johann%20Georg)