Johann Bernoulli
From Academic Kids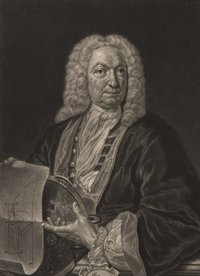 Johann Bernoulli (Basel, July 27, 1667 - January 1, 1748) was a Swiss mathematician. He was the brother of Jakob Bernoulli, and the father of Daniel Bernoulli and Nicolaus II Bernoulli. He is also known as Jean or John Bernoulli.
With his brother, Bernoulli pioneered Gottfried Leibniz's calculus. He also contributed to many areas of applied mathematics, including the problem of a particle moving in a gravitational field. He found the equation of the catenary in 1690 and developed exponential calculus in 1691.
Bernoulli proposed a fluid energy perpetual motion machine.
External links
Template:Mathbiostubde:Johann Bernoulli es:Johann Bernoulli fr:Jean Bernoulli is:Johann Bernoulli he:יוהן ברנולי nl:Johan Bernoulli pl:Johann Bernoulli pt:Johann Bernoulli sk:Johann Bernoulli sl:Johann Bernoulli I. sv:Johann Bernoulli