James E. Webb
From Academic Kids
James Edwin Webb (October 7, 1906 - March 27, 1992) was the second administrator of NASA, serving from February 14, 1961 to October 7, 1968.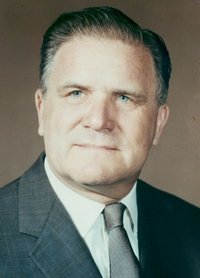 Early career
Born in Tally Ho, North Carolina, Webb was educated at the University of North Carolina, where he received an A.B. in education in 1928. He became a second lieutenant in the U.S. Marine Corps and served as a pilot on active duty from 1930-1932. He also studied law at George Washington University from 1934-1936 and was admitted to the Bar of the District of Columbia in 1936. In 1938, he married Patsy Aiken Douglas and they had two children: Sarah Gorham, born on February 27, 1945, and James Edwin Jr., born on March 5, 1947.
Webb enjoyed a long career in public service in Washington, DC, first serving as secretary to North Carolina Congressman Edward W. Pou, from 1932 until 1934. He then served as assistant in the office of O. Max Gardner, attorney and former governor of North Carolina, between 1934 and 1936. In 1936, Webb became personnel director, secretary-treasurer, and later vice president of the Sperry Gyroscope Company in Brooklyn, New York, before re-entering the U.S. Marine Corps in 1944 during World War II.
After World War II, Webb returned to Washington and served as executive assistant to O. Max Gardner, by then Under Secretary of the Treasury, before being named as director of the Bureau of the Budget in the Executive Office of the President, a position he held until 1949. President Harry S. Truman then asked Mr. Webb to serve as Under Secretary of State in the U.S. Department of State. When the Truman administration ended early in 1953, Webb left Washington, DC for a position in the Kerr-McGee Oil Corp. in Oklahoma City, Oklahoma.
Administration
Webb returned to Washington in 1961 when he accepted the position of administrator of NASA. Under his direction, the agency undertook the goal stated by President Kennedy of landing an American on the Moon before the end of the decade through the execution of Apollo program. For seven years after President Kennedy's May 25, 1961 lunar landing announcement through October 1968, Webb fought for support for NASA in Washington. As a longtime Washington insider, he was ultimately able to acquire continued support for and resources to accomplish the Apollo Moon landing on the schedule President Kennedy had announced.
Webb was in the leadership of NASA during the Apollo 1 accident in 1967. Webb told the media at the time, "We've always known that something like this was going to happen soon or later. ... Who would have thought that the first tragedy would be on the ground?" Webb went to President Lyndon Johnson and asked that NASA be allowed to handle the accident investigation and direct the recovery from the accident. He promised to be truthful in assessing blame and pledged to assign it to himself and NASA management as appropriate. The agency set out to discover the details of the tragedy, to correct problems, and to get back on schedule.
Webb reported his investigation's findings to various Congressional committees and took a personal grilling at nearly every meeting. Whether by happenstance or design, Webb managed to deflect much of the backlash over the accident from both NASA as an agency and from the Johnson administration. As a result, NASA's image and popular support were largely undamaged. Webb left NASA in October 1968, just as Apollo was nearing a successful completion.
After retiring from NASA, Webb remained in Washington, DC, serving on several advisory boards, including as a regent of the Smithsonian Institution. He died in March 1992 and is buried in Arlington National Cemetery.
NASA's planned James Webb Space Telescope was renamed in his honor in 2002.
References
Portions of this article are based on public domain text from NASA (http://www.hq.nasa.gov/office/pao/History/Biographies/webb.html).