Ilyushin Il-18
From Academic Kids
Two aircraft have shared the designation Ilyushin Il-18.
The first was a propeller-driven airliner of 1946 based on the B-29 Superfortress. After a year of test flights, the programme was abandoned.
---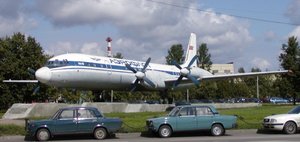 The second Il-18 is a large turboprop airliner resembling the Lockheed L-188 Electra.
As one of the best known Russian aircraft, it is also one of the most popular and long lasting, first flying in 1965.
Seating 100 to 120 passengers, its operating economics are such that many are still in service in Cuba, Siberia and by some operators in the Middle East.
Military versions have also been developed, such as for ASW and ELINT as the Il-24 and Il-38.
This aircraft article is missing some or all of its specifications. If you have a source, you can help Wikipedia by adding them (http://mobile.academickids.com/encyclopedia/index.php?title=Ilyushin_Il-18&action=edit).
Specifications
General characteristics
Crew:
Capacity:
Length: m ( ft in)
Wingspan: m ( ft in)
Height: m ( ft in)
Wing area: m² ( ft²)
Empty: kg ( lb)
Loaded: kg ( lb)
Maximum takeoff: kg ( lb)
Powerplant: Engine type(s), kN ( lbf) thrust
Powerplant: Engine type(s), kW ( hp)
Performance
Maximum speed: km/h ( mph)
Cruising speed: km/h ( mph)
Combat range: km ( miles)
Ferry range: km ( miles)
Service ceiling: m ( ft)
Rate of climb: m/min ( ft/min)
Wing loading: kg/m² ( lb/ft²)
Thrust/weight: or
Power/mass: kW/kg ( hp/lb)
Armament
Related content
Related development:
Comparable aircraft: Lockheed L-188 Electra - Vickers Viscount
Designation sequence: Il-12 - Il-14 - Il-16 - Il-18 - Il-20 - Il-22 - Il-24
Related lists: List of airliners

Template:Ilyushin Russian airliners
de:Iljuschin Il-18