Human League
From Academic Kids
Missing image
Human_League_Greatest_Hits.jpg
Originally a post punk synthesiser based group from Sheffield, the Human League (previously known as the Future) released their first single, "Being Boiled" c/w "Circus Of Death" on Bob Last's Fast Product record label in 1978. Shortly afterwards, they signed up with Virgin Records, and by the early 1980s had become a successful British electropop band. Their first single to chart was 'Empire State Human', which peaked at number 62 in the charts. When Ian Craig Marsh and Martyn Ware left to form Heaven 17 it seemed that Phil Oakey and Adrian Wright, the sole remaining group members, would be unable to sustain the band, which, just before the split, was beginning to achieve wider popularity.
However, they recruited bass player Ian Burden, guitarist Jo Callis (formerly of The Rezillos) and, famously, fronted the band with two singers, Susan Ann Sulley and Joanne Catherall, whom they had met in a Sheffield nightclub. At the time, synthpop was starting to become fashionable due to the success of groups like OMD and Ultravox, but female vocals were rarely heard on synth records, so the addition of Sulley and Catherall gave the group a distinctive sound. Re-energized by the addition of new members, the band went on to record their breakthrough album Dare, and have many chart successes.
The band achieved a brief spell of success in the early 1980s with their style of Synthpop music. Their most famous single "Don't You Want Me" reached number one in the UK charts during the Christmas of 1981 and was one of the biggest selling singles of that year.
The band also had a number of other hits but their success faded towards the mid-1980s. The Jam & Lewis-produced Crash LP (1985) did provide a U.S. number one, "Human", but other singles made little impact.
The group made a surprise comeback in 1994. Dropped by Virgin Records after the failure of their album Romantic? (1989), the group were now signed to EastWest and their line-up included producer Ian Stanley, who helped them to achieve a more modern sound. The album Octopus went silver, and the lead-off single "Tell Me When" was the group's first major hit since "Human".
Four CDs attribute songs by The Human League under different names: on The Golden Hour Of The Future there are songs credited to The Human League when they were still The Future, on the single "I Don't Depend On You" where they call themselves The Men, on the "Dance Like A Star" Ep, there are also songs attributed to The Future and on "Love And Dancing", they pay homage to Barry White's Love Unlimited Orchestra by calling themselves League Unlimited Orchestra.
Recently, the band have joined of a number of 80s revival tours, Oakey now describing this as being in a Human League tribute band.
The name "Human League" derived from the game Starforce: Alpha Centauri, which was the second professional published science fiction wargame, by SPI. In the game, the Human League arose in 2415 A.D., and was a frontier-oriented society that desired more independence from Earth and the terraforming of systems not naturally habitable.
Human League's catalogue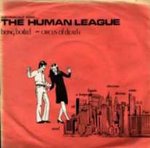 Early singles:

"Being Boiled" (single, Fast Product, 1979)
'The Dignity Of Labour Pts 1-4' ( Fast Product, 12" only, instrumental)
'I Don't Depend On You' (single, released under the name of The Men)

Reproduction (later re-released with 'The Dignity Of Labour Pts 1-4' Ep, the B-side of the 'Empire State Human' single (called 'Introducing'), the Fast Product label 'Being Boiled' single and an in-studio conversation titled 'Flexi Disc')

"Empire State Human"
"Holiday '80' " (Double EP, later reissued as two single EPs, includes new version of "Being Boiled")

Travelogue (later reissued with the 'Only After Dark' single, 'Holiday '80' EP, 'I Don't Depend On You' and other tracks including 'Tom Baker' and 'Boys and Girls')

'Only After Dark' (single)
"Boys And Girls" (non-album single)

Dare

"The Sound of the Crowd"
"Open Your Heart"
"Love Action (I Believe in Love)
"Don't You Want Me?"
"Being Boiled (Re-boiled)" (cash-in reissue released by EMI, not Virgin. Same version as the 1978 single, but runs for an extra 35 seconds and fades out rather than cutting out abruptly as on the original release)

Love And Dancing (dub mixes of tracks from Dare, credited to League Unlimited Orchestra)
Fascination (six-song EP with two mixes of "Fascination", "Mirror Man", and three other songs)

"Fascination"
"Mirror Man"

Hysteria

"The Lebanon"
"Life On Your Own"
"Louise"

Crash

"Human"
"Love Is All That Matters" (released to promote Greatest Hits LP)

Greatest Hits
Romantic?

"Heart Like A Wheel"
"Soundtrack For A Generation"

Octopus

"Tell Me When"
"One Man In My Heart" (lead vocal by Susan Sulley)
"Filling Up With Heaven"

Greatest Hits (reissue with three extra tracks)

'Don't You Want Me' (remixes)
"Stay With Me Tonight"

The Very Best Of (by Ark 21, not EMI. Compilation from 1981-5 tracks)
Secrets (The Japanese version has three bonus tracks)
The Very Best Of (EMI, 2 CDs, CD2 is all remixes, also on DVD)
League Live (DVD)
Unofficial releases
'Human League Cassette' (1978)
'Taverner Tape' (1978)
'In Darkness' (a bootleg demo album)
'The Future Tapes' (unreleased)
'Dance Like A Star' (EP)
'The Golden Hour Of The Future'
'The Human League Promo Mix CD' (not available)
'The Human League Interview'
"Together In Electric Dreams" was a solo single for Oakey rather than the whole League, but has been included on Human League albums as if it were by the whole band.
"L.A. Today" (2003) was a single from Alex Gold featuring Oakey on vocals
"Rock And Roll Is Dead" (2003) was a single from fellow Sheffield band, Kings Have Long Arms, that paid tribute to Oakey and eventually was re-released with Oakey doing some guest vocals.
External links