Huedin
From Academic Kids
Huedin (Hungarian: Bánffyhunyad) is a town in Cluj county, Romania.
Location and Administration
Huedin is located in the Apuseni Mountains and surrounded by the villages of Nearsova, Domosu de Cris, Horlacea, etc. Recently, it is becoming an important ecotourism hub for the mountains. The Town of Huedin, administred by the municipal council, is made up of Huedin (the urban area) and the village of Bicalatu (Magyarbikal in Hungarian).
Population
The city has a population of 9955 people (as of 2003). Of these, 32.5% are ethnic Hungarians.
History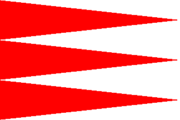 The town of Huedin was founded in the Middle Ages. From 1330 up until 1848, the landlord of the town was the Bánffy family (that's where the name Bánffyhunyad for the city comes from). The city was part of the Kingdom of Hungary. Later on, in 1526, Huedin become part of the Principality of Transylvania and later the Grand Duchy of Transylvania, until 1867.
The city has a strong Hungarian heritage from historical times. As of 1910, the population was 5194, of which 90.5% were Hungarian. The population was also 57.5% Calvinist by religion, and 20.7% Jewish. From 1919 to 1940, the city was part of Romania. From 1940-44 it was again part of Hungary. Since then and up to the present stage, it is part of Cluj county in Romania. The city is home to a beautiful Gothic Reformed Church dating from the 13th century.
Accessibility
The city is accessible by CFR (http://www.cfr.ro) trains from Cluj-Napoca and also from other cities such as Oradea, Timisoara, Satu Mare, Brasov, Predeal, Ploiesti and Bucharest, as well as Budapest (Hungary), because it is on the main line. It is also on the main road between Budapest-Oradea-Cluj-Napoca.de:Huedin hu:Bánffyhunyad ro:Huedin