Honolulu International Airport
From Academic Kids
Honolulu International Airport is the principal aviation gateway of the City & County of Honolulu and the State of Hawai'i and identified as one of the busiest airports in the United States. It is the second busiest port in Hawai'i following Honolulu Harbor.
Opened in March 1927 as John Rodgers Airport, Honolulu International Airport is the principal hub of Hawaiian Airlines and Aloha Airlines, the two largest Hawaii-based airlines. Both airlines offer flights between the various airports of the Hawaiian Islands and also serve the continental United States. Honolulu International Airport is host to major United States and international flagship commercial carriers with direct routes to American, Asian, Pacific Rim and European destinations.
Authority
Honolulu International Airport is part of a centralized state structure governing all of the airports and seaports of Hawai'i. The official authority of Honolulu International Airport is the Governor of Hawai'i. He or she appoints the Director of the Hawai'i State Department of Transportation who has jurisdiction over the Hawai'i Airports Administrator.
The Hawai'i Airports Administrator oversees six governing bodies: Airports Operations Office, Airports Planning Office, Engineering Branch, Information Technology Office, Staff Services Office, Visitor Information Program Office. Collectively, the six bodies have authority over the four airport districts in Hawai'i: Hawai'i District, Kaua'i District, Mau'i District and the principal O'ahu District. Honolulu International Airport is a subordinate of the O'ahu District officials.
Facilities
Missing image
Honoluluairportdiagram.jpg
Diagram of Honolulu International Airport


Honolulu International Airport has four major runways. The principal runway designated 8R/26L, also known as the Reef Runway, is the world's first major runway constructed entirely offshore. Completed in 1977, the Reef Runway is a designated alternate landing site for the National Aeronautics and Space Administration space shuttle program in association with Hickam Air Force Base, which shares Honolulu International Airport's airfield operations.
Honolulu International Airport has three terminal buildings.
The Interisland Terminal mainly serves the interisland flights of Hawaiian Airlines and Aloha Airlines. It is designed to handle flights on jet aircraft between the major commercial airports in the Hawaiian Islands.
The Main Overseas Terminal serves flights to and from the United States mainland and international destinations.
The Commuter Terminal serves smaller airlines which operate flights between the smaller airports in the island chain.
The entire terminal complex features twenty-four hour medical services, restaurants, shopping centers and a business center with conference rooms for private use. Main roads leading to the Honolulu International Airport are Nimitz Highway and the Queen Liliuokalani Freeway of Interstate H-1. Passengers have the option of using various short-term and long-term parking structures on the campus of Honolulu International Airport.
Airlines
Main Terminal
Interisland Terminal
Aloha Airlines: Hilo, Kahului, Kauai, Kona, Las Vegas, Oakland, San Diego, Santa Ana,
Hawaiian Airlines: Hilo, Kahului, Lihue, Kona, Lana'i City, Molokai
Commuter Terminal
Island Air: Hilo, Kapalua, Kahului, Kona, Lanai City, Lihue, Molokai
Pacific Wings: Hana, Kahului, Kalaupapa, Kamuela
Disasters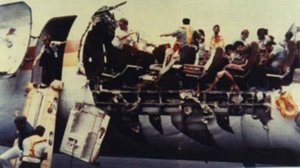 There have been four major air traffic incidents that caused air traffic controllers and federal emergency officials at Honolulu International Airport to be placed on emergency alert. Three were disasters that resulted in fatalities, and one involved a global terrorist plot that some arguably consider a precursor to the September 11, 2001 attacks on the United States.
Pan American World Airways, 1982
On November 8, 1982, a Pan American World Airways Boeing 747 carrying 275 passengers was involved in a major accident resulting in death as it departed from Honolulu International Airport.
Aloha Airlines, 1988
On April 28, 1988, Aloha Airlines Flight 243 interisland from Hilo to Honolulu International Airport carrying 89 passengers and 6 crew members experienced rapid decompression when an 18 feet (5 m) section of the fuselage roof and sides were torn from the airplane. One flight attendant, Clarabell Lansing, was sucked out of the airplane and died. Several passengers sustained life-threatening injuries including instances of massive head wounds. The aircraft declared an emergency and landed at Kahului Airport in Maui with slight difficulty. Noise created by the rush of air rendered vocal communication useless, and air traffic controllers had to use hand signals during landing.
Missing image
Unitedairlinesdisasterhonolulu.jpg
Investigations of the disaster, headquartered at Honolulu International Airport, concluded that the accident was caused by metal fatigue. The disaster caused almost all major United States air carriers to retire their oldest airplane models.
United Airlines, 1989
On February 24, 1989, United Airlines Flight 811, a Boeing 747 carrying 3 flight crew, 15 cabin crew and 337 passengers from Los Angeles, California to Sydney, Australia, stopping in Auckland, New Zealand and Honolulu suffered explosive decompression when a cargo door separated from the aircraft after takeoff from the Reef Runway. Nine passengers were swept from the aircraft and lost at sea. The plane returned to Honolulu.
Operation Bojinka, 1995
In 1995, United States and Philippines intelligence authorities discovered an al-Qaeda terrorism plot called Operation Bojinka after a fire on an American carrier at Ninoy Aquino International Airport in Manila. Related to an assassination attempt at Pope John Paul II, a first phase of Operation Bojinka included the explosion of several American carriers over the Pacific Ocean upon takeoff from or to Honolulu International Airport on January 21 of that year.
Resources
Template:Airports of Hawaiifr:Aéroport international d'Honolulu ja:ホノルル国際空港