Henry Havelock
From Academic Kids
Major-General Sir Henry Havelock (5 April 1795 - 24 November, 1857) was a British general.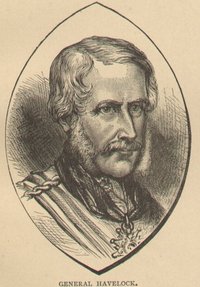 He was born at Ford Hall, Bishopwearmouth, Sunderland, the son of a wealthy shipbuilder, and educated at Charterhouse. He joined the army as a 20-year-old and went to India eight years later, eventually serving with distinction in the First Anglo-Burmese War (1824-1826) and in the First Afghan War (1839-1842), reaching the rank of captain.
However, he is particularly associated with India. He was noted for his recapture of Kanpur from rebels during the Indian Mutiny. In 1857 he relieved Lucknow from siege, but was caught in another siege. He died of dysentery a few days after it was lifted.
There is a statue of him (by William Behnes) in Trafalgar Square (a copy is also situated in Mowbray Park, Sunderland). In 2003, there was minor controversy when the mayor of London, Ken Livingstone suggested that the Trafalgar Square statue, together with that of General Charles James Napier, be replaced with "more relevant" figures.Template:UK-bio-stub