Harlem River
From Academic Kids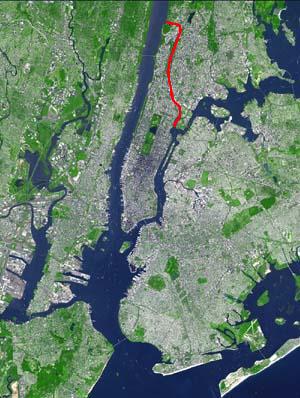 The Harlem River is a tidal strait in New York City, USA that flows 8 miles between the East River and the Hudson River, separating the borough of Manhattan from the Bronx. Part of the current course of the Harlem River is the Harlem River Ship Canal, which runs somewhat south of the former course of the river, isolating a small portion of Manhattan (Marble Hill) on the Bronx side of the river.
The Harlem River is traversed by two legs of the Triborough Bridge (Harlem River Lift, Bronx Kills Crossing) as well as many lesser-known bridges. These bridges cross it from south to north:
Kings Bridge was one of two bridges across the old alignment at Marble Hill.
Like the East River, the Harlem is actually a tidal estuary.
Missing image
HarlemRiverBridges.JPG
See also