Hakone, Kanagawa
From Academic Kids
Missing image
Hakone-fuji-jpatokal.jpg
Mt. Fuji from Hakone


Mt. Fuji from Hakone NP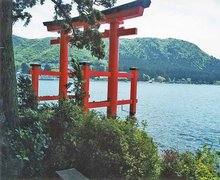 Missing image
HakoneDai0085.jpg
Hakone (箱根町; -machi) is a Japanese town located in the Ashigarashimo District, in the western more mountainous part of the Kanagawa Prefecture next to Mt. Fuji and not far from Tokyo. The Hakone checkpoint on the historical Tokaido road marks the beginning of the Kanto region, and the annual Hakone Ekiden on New Years runs from Tokyo to Hakone and back over two days partly in commemoration of the Tokaido road. Like its close neighbor Odawara, Hakone has many onsen (hot spring) resort areas. Hakone is very touristic and many people, both Japanese and foreigners come to Hakone to relax, for treatment at the health resorts, or to enjoy the parks and mountains. The volcanically active Fuji-Hakone-Izu National Park, centered around Ashi, is a popular tourist attraction well known for its onsen hot springs and its views of Mt. Fuji. Sights include the Great Boiling Valley (大涌谷 Ōwakudani), with its volcanic activities, and Hakone Shrine nestled on the shore of the lake. In April the sakura (cherry blossoms) and the Japanese pampas grass (susuki) are reportedly a very beautiful view in the parks.
Hakone is best accessed from Odawara, the terminus of the Odakyu Odawara Line, 70 minutes from Shinjuku, Tokyo. From Odawara, the Hakone-Tozan Line continues into various resort towns in Hakone. Owakudani can be reached by cablecar from Sounzan and the lake, while the lake is crisscrossed by cartoonishly decorated "pirate" ships for tourists.
A popular "Hakone Free Pass", allowing unlimited use of most forms of transport for several days, is available.
As of 2003, the town has an estimated population of 14,872 and a density of 160.22 persons per km². The total area is 92.82 km².
External links