From Academic Kids
Missing image
Gruyere1.jpg
Template:Otheruses3
Missing image
Gruyere2.jpg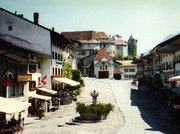 Gruyères (2002 pop. 1,530) is a small town in the district of Gruyère, cantons of Fribourg, Switzerland. The town and district are famous for their Gruyere cheese.
Gruyères is situated on a small ridge overlooking the valley, its original town walls still intact. It is known from at least 923, and was the capital of a county until it was divided between Fribourg and Bern in 1555. The castle, which dates from 1493, was then the residence of a governor until 1848, when it was acquired by the Bovy family of Geneva.
The castle became the property of the canton in 1938, and has been made into a museum and art gallery. Artists on display include Hans Ruedi Giger.
The commune includes the villages of Epagny and Pringy.
External links