Green Line (Washington Metro)
From Academic Kids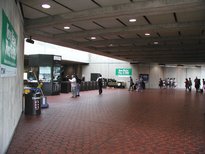 The Green Line of the Washington Metro consists of 21 subway stations from Branch Ave to Greenbelt. It starts in Prince George's County, Maryland, runs through the District of Columbia and exits back out into Prince George's County. This was the last line started and completed in the original Metrorail plan, and is the north-south line through Washington. It shares four stations in Washington with the Yellow Line.
History
Service on the Green Line began on May 11, 1991 on four stations between U St/African-Amer Civil War Memorial/Cardozo and Gallery Pl-Chinatown, but was basically just the Yellow Line, as all trains were still Yellow Line trains running between U St and Huntington. The first real Green Line link opened on December 28, 1991, with three stations to Anacostia, and the Yellow Line above Mt Vernon Sq/7th St-Convention Center was discontinued. The four station branch north of Fort Totten to Greenbelt opened on December 11, 1993. The mid-city line was completed on September 18, 1999 with two stations opening, and the last five stations south to Branch Ave opened on January 13, 2001, completing the system.
A short time after the branch north of Fort Totten opened, the Green Line Shortcut began as a six month experiment, allowing passengers to get on a train on the Green Line segment and travel as far as Farragut North on the Red Line without having to switch trains at Fort Totten. Due to its success, it was continued until the mid-city portion of the Green Line was completed.
List of stations, south to north
Missing image
Wash-dc-metro-green.png
See also: List of Washington Metro stations